13,000 kilometers of Western Australia
I had three months to see as much of Western Australia as possible before getting kicked out of the country. After a rough landing in Perth and a few days adjusting to Port Hedland's martian terrain, I got the show on the road. With my good Friend Alexander James, we drove 13,000 kilometers exploring the Western coast and 2,000 kilometers cruising through the heart of Australia.

Nov 10, 2012: Dead on Departure
Wanna know how I got to Western Australia? First, I missed my flight from Indonesia. Woke up on a porch with puke in my hair at 8:15 a.m. I ran to Suka Beach Inn, packed whatever was laying around and threw my suitcase down the stairs. I got a ride to the airport, but then I didn't have enough rupiah to pay the driver so he threw my suitcase into the street. I dragged my sorry ass to the check-in counter at 8:45 a.m. and attempted to check in for my 9 a.m. international flight. A woman asked me, "Honey, do you have the Bali belly?" She was referring to the puke. "No ma'am. I'm just drunk." Somewhere just a few hundred meters away, my plane to Australia disappeared into the sky without me. Now that the pressure was off, I simply booked another flight, got one of my friends to collect me from the airport & spent my final hours in Bali eating McDonalds, repeatedly shampooing my hair and laughing with my friends. Selamat minum!
Anyway, the point is that I arrived in Australia. Of course, I did leave my precious Canon point-and-shoot camera on the plane, never to be seen again. You win some, you lose some – if you're me, you lose pretty much everything all the time. Even so, I've got a big grin on my face here in Perth. After being here for only a few days, I've come to understand the impact of living in a third-world country for so long. I am so thankful for the most simple of life's daily pleasures in Western Australia. I can drink water straight out of the tap. Standard accommodation comes with air conditioning, hot water and a flushing toilet. I relish in the convenience of having your own washing machine and the freedom to choose your own detergent. How about TV in English! Billboards, signs, road maps – everything written in English. Footlong Subway sandwiches. Riding in a taxi and paying with a debit card and getting a receipt in exchange (wouldn't that have been ever so handy for my travel insurance claim!).
Oh, and it doesn't hurt that my good friend Alex has stocked the fridge with Coopers Pale Ale, bottles of wine, camembert cheese, eggs, milk and yogurt. The cupboards are lined with peanut butter, multi-grain bread, boxes of muesli and crackers. Sitting on the counter are avocados, bananas, apples, oranges. I feel as if I'm waking up from a long, twisted dream. Goodbye Indonesia, so long! If you need me, I'll be drinking sediment beer and scoffing down creamy bri with a long-sleeved shirt on because here in Fremantle, the temperature actually varies sometimes.
Nov 23, 2012: Melting Away, Stay Alive
Greetings from Mars! A few days ago I arrived in the Pilbara via the Port Hedland Airport. When I say 'the Pilbara' I'm talking about a big, red patch of thinly populated territory in the north of Western Australia. The region is scorching, not only in terms of its dry, martian land-scape, but also in degrees Celsius. In a nut shell, my introduction to the Pilbara was rather unpleasant. I was hungover and it was hot.
On the bright side, I've spent the past few days adjusting to the heat and the hangovers by steering clear of both. I've been occupying my time with lots of indoor activities & only leaving house in the evening, just in time for sunset of course. I'm taking things slowly and still getting reacquainted with flushing toilets, readily available western cuisine and english language TV shows. After six months in Indonesia, I'm allowed to spend a couple of weeks marveling at the modern world.
Anyway, I've discovered the Port Hedland library, which is most likely smaller than your bedroom, but still worth its weight in gold: Annie Leibovitz, National Geographic, photojournalism collections, travel compilations, wildlife encyclopedias, Jack Kerouac, Jon Krakauer, Bob Dylan & Marilyn Manson. I've come to realize what a dork I probably seem like, but in this way I think I'm pretty lucky because I'm not sure what else I would be doing in Port Hedland at the moment if I weren't reading books all day. Books have been keeping me sane throughout this entire trip. When I was lost and defeated in Bali, when it was cold and wet in Tasmania, when I was bored and uncomfortable at night sleeping in strangers' beds while couch surfing down the Australian East Coast.
I've always enjoyed reading, and I've always encouraged everyone around me to do more of it. Even my step-dad, a Metallica rocking, sports watching, beer drinking enthusiast, has fallen prey to a literary life thanks to my seemingly lame Christmas presents a few years back. I remember how disappointed he seemed when he unwrapped his books, clearly hoping for a new Rush CD or a Buccaneers T-shirt. Now he's always on my case about reading this book or that book that he's just finished. I even annoyed Casey with reading for awhile, pushing her to find a book she would enjoy. And while I support the Reading Rainbow for it's obvious benefits, mostly I just think it's sort of a necessary habit to pick up when you're on the road. It's a good way to pass the time, to enjoy the weather, to relax, to take your mind off of things, to keep you company. Of course, I'm a real snob and I don't care for those electronic books and audio downloads – I like the real deal: used book shops and turning pages, bringing my book to the beach and laying it right in the sand with my hair dripping salt water onto the pages and wrinkling them forever. But anyway, that's how I've been spending my days here in Port Hedland so far.
Dusk is a different story. When the sun finally starts to set and the temperature drops below 40 degrees Celsius, life begins. Alex and I start every sundown with a few beers, first and foremost. Sometimes we just go for a drive off-road and watch the sunset behind the power lines or the iron ore factories. We watch the sun sink behind the Port itself from the second floor Alex's construction site or from the sandy shore of a nearby beach. When the tide is low we can four-wheel drive to Spoil Bank and watch the wind-surfers cruising across the water, putting every last ray of the sun's light to good use. All the while, we're drinking ice cold Coopers or James Boags. It's been a relaxing week, just the right medicine for my Indo-Illness.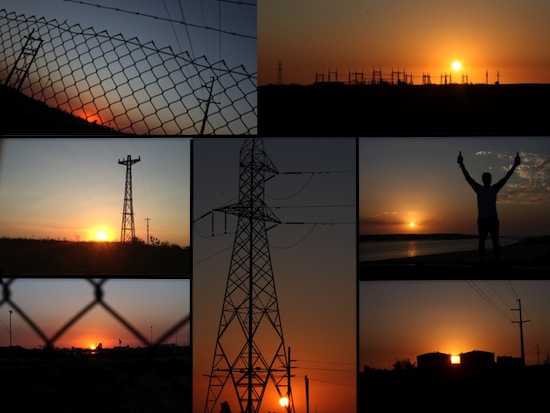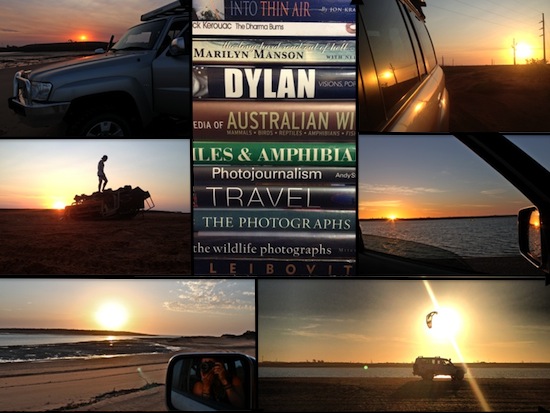 Nov 20, 2012: A Weekend in Karijini
If you've never heard of Karijini, here's what you need to know: It's awesome. Everything about it is beautiful, exciting, natural and worth seeing. The gorges are gorgeous, the waterfalls are wonderful, even the spiders are spectacular. But seriously, without sounding too cheesy, Karijini is a must-see, definitely-do on Western Australian's fun-list.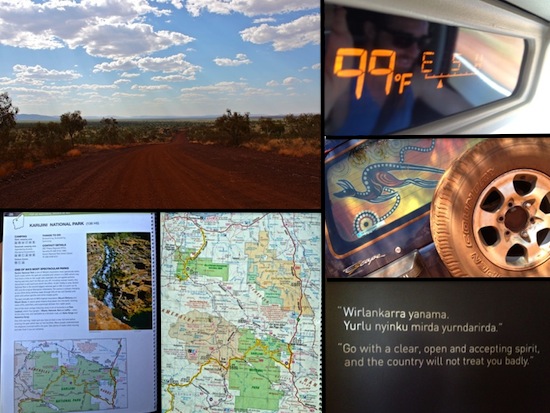 For two nights and two days I was perpetually impressed by the rugged beauty of land, the trails, the swimming-holes, the starry night-skies, the immaculate sunsets, the adorable reptiles, the bare bones yet luxurious eco-tent accommodation. Even driving down the Karijini roads was an exciting activity. Cruising down mars-red ribbons of winding gravel that stretches for miles with endless possibility.
I especially liked that the rules of the park were quite simple: take out what you bring in and respect the land. There are some cautionary signs and forbidden danger zones, but otherwise you have free reign to use your own discretion when diving head-first into rock pools, hiking near the cliffs' edges, and playing underneath the waterfalls (a personal favorite was the Fern Pool waterfall. It was the first one I've ever actually put my head under).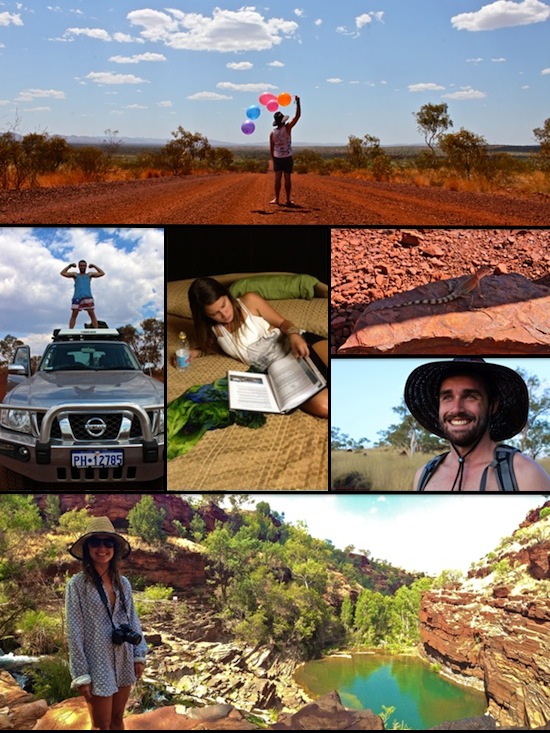 The best part is that you get big rewards for very comparatively little effort. Sometimes you visit national parks and go on these four or five day hikes, risking your life to get to the top of a mountain with hopes and dreams of a breathtaking view, or you walk around in a circle in the heart of no where. In Karijini, you don't have to hike very far for a breath-taking view, and you won't find yourself plodding around in a circle just for the hell of it. You can hike down into Dales Gorge in 20 minutes, all the while admiring the natural ruggedness of the landscape with an ever-changing vantage point. When you get to the end of the descent, you'll be rewarded with an inviting swimming hole and a soothing waterfall. Of course, you can really push your boundaries and take on the more challenging hikes through different gorges, but you can still have a very amazing experience if you're not up for a strenuous effort. Having said that, I suppose it does take some people longer than others and the level of difficulty varies depending on your level of fitness, but I would say that overall, Karijini is an ideal experience for mostly everyone. It's everything you could want from a National Park.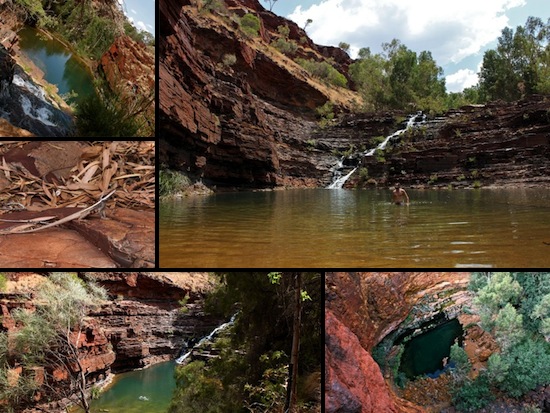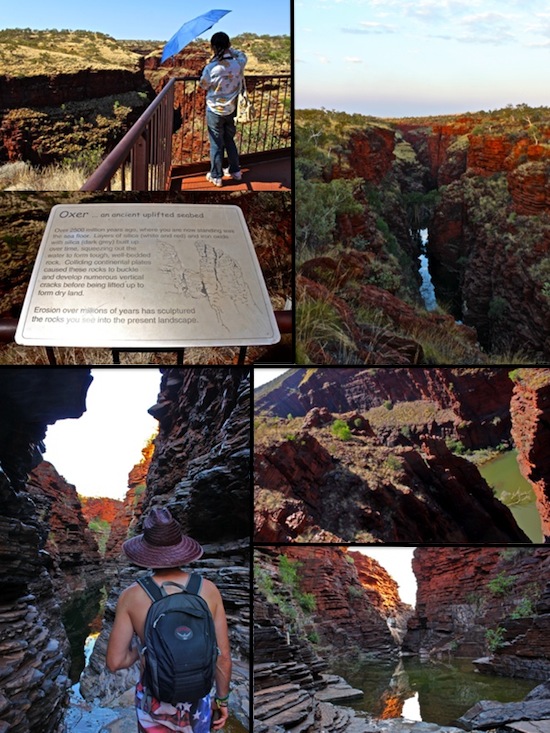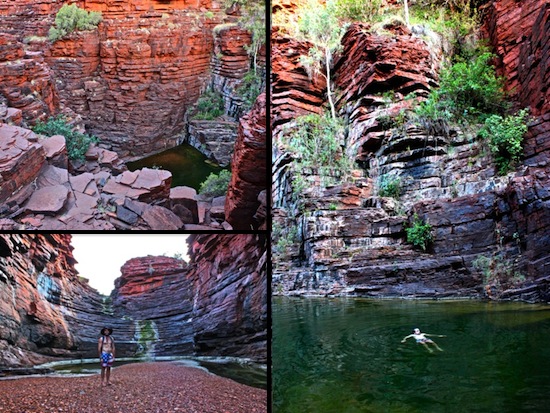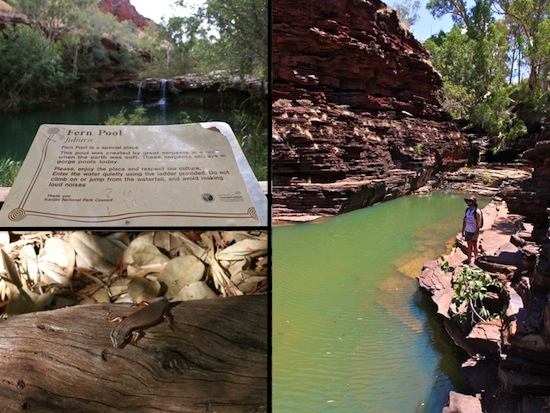 The other thing that I loved so much about Karijini was the accommodation: a super-rad eco tent. It has all of your bare bones necessities with a very naturally luxurious feel. Basically the eco-tents are just big canvas tents with wooden floors and king-size beds and outdoor bathrooms stocked with eco soap and recycled toilet paper. You also get a little flash light and two folding chairs. It has every comfort and natural element you could want while camping and then some. You can enjoy the sound of the wind pushing up against the walls of your canvas tent, you can breathe in the fresh air, you can peek at the stars through the fly-screen, but better yet you can do all of these things from the comfort of a king-size bed. For me, this set-up was a dream come true. I don't doubt I'm the only person who's ever had dreams of falling asleep in a big, comfortable bed in the heart of the outdoors – whether on the beach, in the woods or in the depths of Western Australia. These eco-tents are everything I've ever wished for in camping accommodation.
But of course, the Karijini moments that stole my heart were the sunsets. I've seen a lot of sunsets in my time – obsessively seeking out new locations and dropping everything for a glimpse of the suns final beams of light – and let me tell you, Karijini sunsets are the kind that make you feel like you're on magic mushrooms: "Is this real life? This is the most beautiful thing I've ever felt." Photographs are useless when it comes to capturing the warmth of the suns last rays hitting your skin, the silky breeze teasing your hair, the chirping insects, the twittering birds – but you get the idea.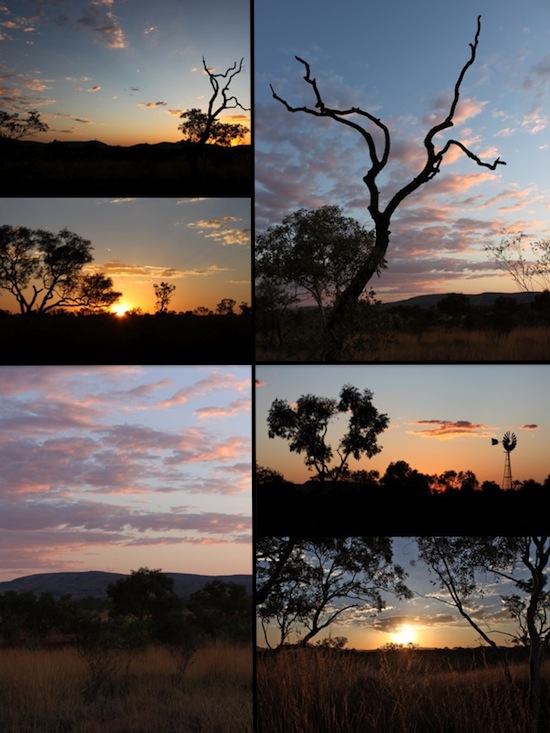 If you're visiting Karijini from Port Hedland, the drive along the Great Northern Highway is just another added bonus. On our trip, Alex and I took our time just enjoying the road under the tires. Lookouts and rest stops, Roadhouse diners, off-road detours to watch the light change over the landscape or to get a better look at the Wedge Tailed Eagles and willy willies. I take Ernest Hemingway very seriously when he says, "It is good to have an end to journey toward; but it is the journey that matters, in the end." These are words to live by.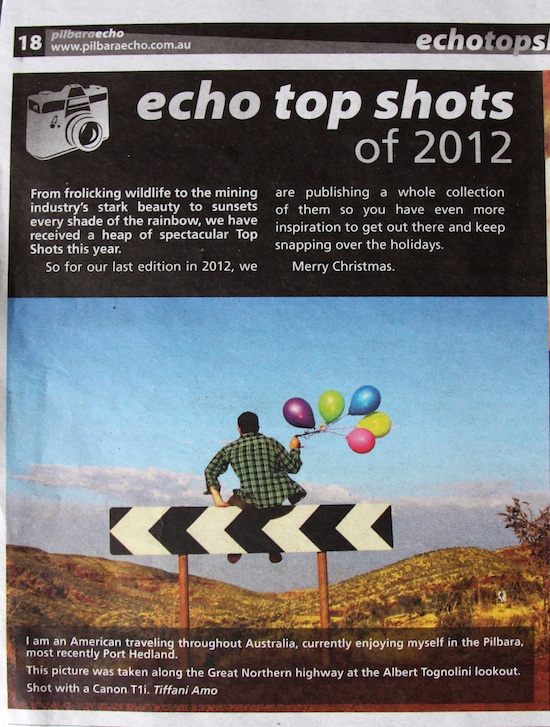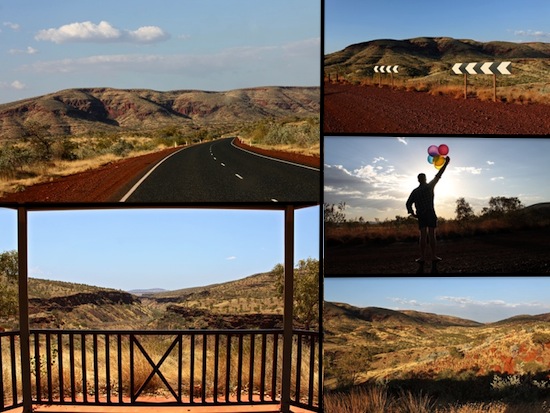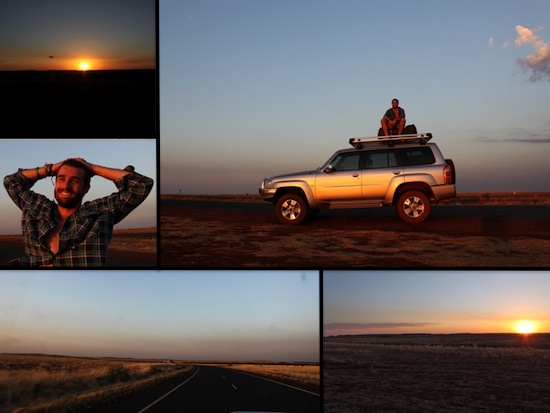 Nov 26, 2012: Out to Sea & Into Port
I always thought that tug boats were used for towing garbage barges. They never looked all that big, never moving all that fast, never appearing to do much at all. Quite an unimpressive piece of floating machinery in my book. That is, until I actually went out on one of the Port Hedland TK tug boats. They are powerful rigs, and apparently they're used for way more than just towing garbage.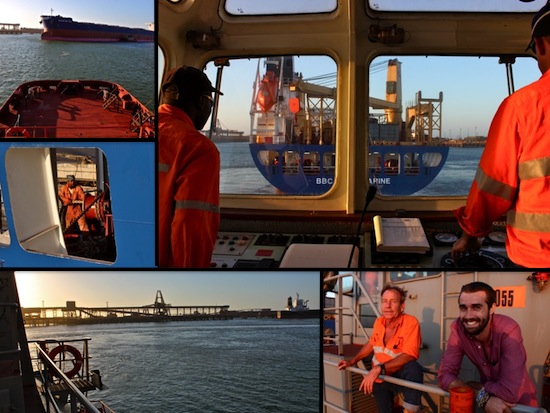 I was only lucky enough to take a ride on the tugs because I know somebody who knows somebody. Unfortunately for almost everyone else, access is denied. On the other hand, it made it that much more exciting for me! Basically I spent the evening stumbling around the tug boat and annoying the crew. I learned all about the tonnage and the tides etc etc (in one ear and ever so slowly leaking out the other through no intention of my own – I really tried to take it all in!). The best part was having dinner in the galley with Paul (Alex's uncle). It was a simple meal, but it was exciting being holed up below deck. I've never really had an out-to-sea dining experience, and it all felt very Titanic to me. Not in the fancy, first-class sort of way. More like in the sense of impending doom, but nothing so ominous that it couldn't be overpowered by a drumstick ice-cream cone and some cookies.
These muscular tugs dragging mammoth rigs through the sea will also make you very aware of how powerless human beings are in comparison. Standing next to a skyscraper or peering up from the bottom of a rocky gorge will make you feel small, will perhaps make you stand in awe for a moment and contemplate your insignificance. Standing on the deck of a tug that is rocking back and forth at sea while hovering inches away from a ship the size of a building isn't simply awe-inspiring – it's fucking terrifying. Especially at night when the lights are flickering menacingly on the churning water below and the weird glow turns the water a sinister, mossy color that practically screams 'liquid grave'.
In my head I played out scenarios of tug-trips gone wrong. I imagined unexpectedly losing power and being rendered helpless in the shadow of the ship beside us, whose formidable propellers and undercurrents would have no doubt rolled our tug over, leaving us belly up for a few perilous moments before sending us into the depths. I pictured a rogue, unmanned vessel appearing in the dark, oncoming at full-force knots, and T-boning us. I imagined the sound of the steel-bending grimace our tug would make before snapping in half and plummeting to the bottom of the sea. I was dreaming up all kinds of tangled ropes, seizing engines and explosions that would ultimately lead to our tug being dragged under the waves, nose first. I had no practical knowledge as to how likely these scenarios were, but they all seemed reasonably possible in my head.
In the end, we made it safely back to the harbor and even had time to grab a beer at the Pier – which I would never recommend doing after 9 p.m. if you're by yourself. Anyway, cheers to a night in the Port!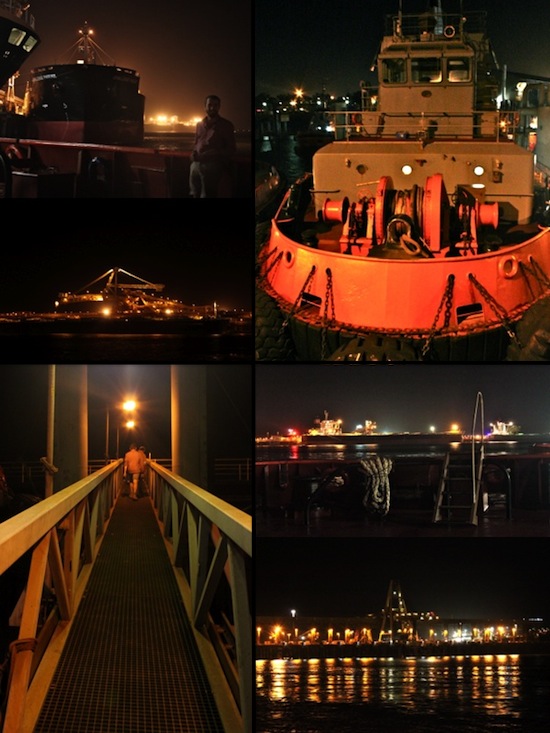 Dec 09, 2012: On the Road to Point Samson
What better way to spend a Sunday in the Pilbara than to take a quick road trip to Point Samson: Fish & chips on the water & Coopers Pale Ale, not to mention my first thunderstorm in more than a year. I probably wouldn't recommend going too far out of your way to visit Point Samson, but if you've got the time and you're feeling thirsty, it's a rad little spot. If nothing else, it's a good excuse for a weekend road-trip if you're just looking for a stretch of lazy pavement, a few quirky road-side attractions and a couple of hours to kick back and enjoy your favorite iPod playlists: Black Keys, Bob Dylan, Sublime. Cheers to road-trips!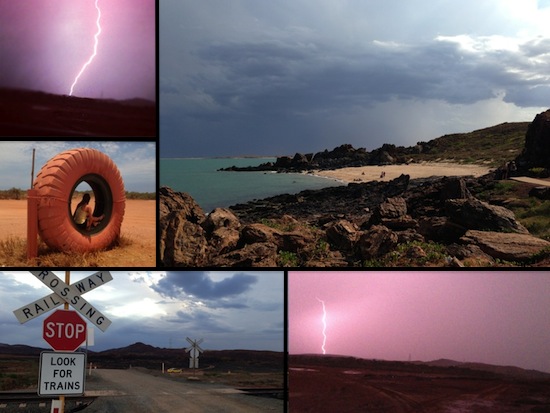 Dec 11, 2012: Gone Tuggin' Again
Back on board the tugs again – I'm practically a local. Tonight we escorted a 250,000 ton piece of ship out to sea. The Titanic only weighed 46,000 tons. Of course, the Titanic wasn't overflowing with iron ore. Anyway, beef stew for dinner & cheesecake for dessert in the galley. This time I had a whole new range of disaster scenarios to dream up: It was raining and the lightning was beaming down, so frequently in fact that it struck up a roaring fire back on land, visible in the distance on our way back into the harbor. As you can imagine, I was brainstorming malfunctioning electrical equipment, burning oil barrels and swell not unlike the kind you might have seen in the Perfect Storm. Before any of my watery-grave premonitions came to fruition, we were safely back at the harbor. Cheers to the Captain & Crew for another awesome tug trip!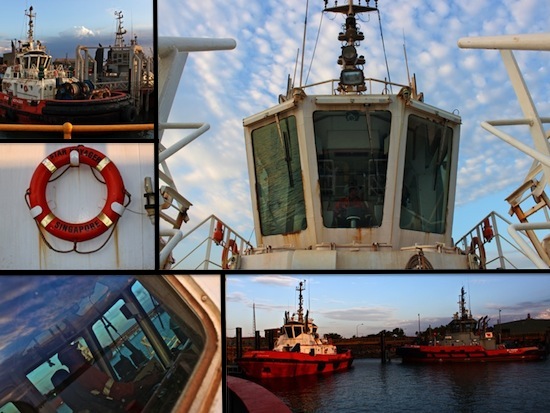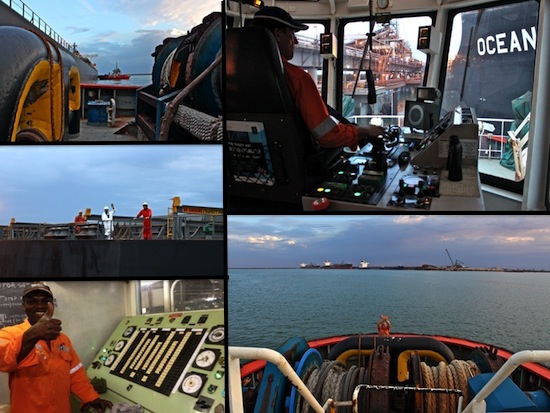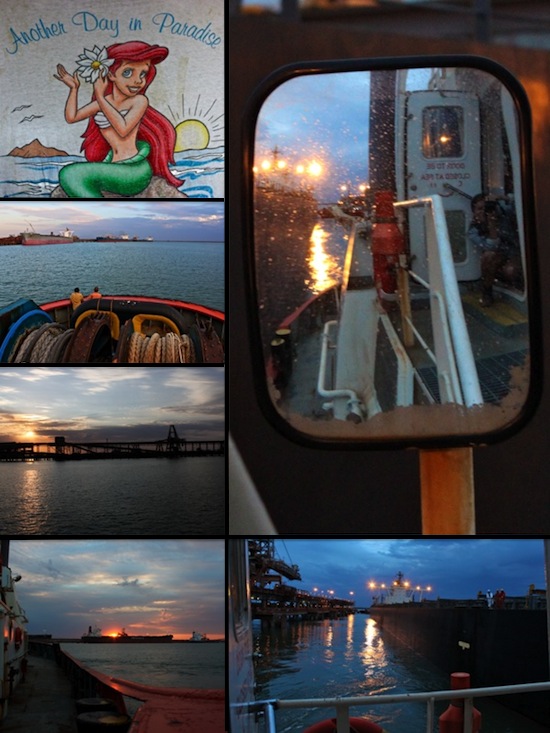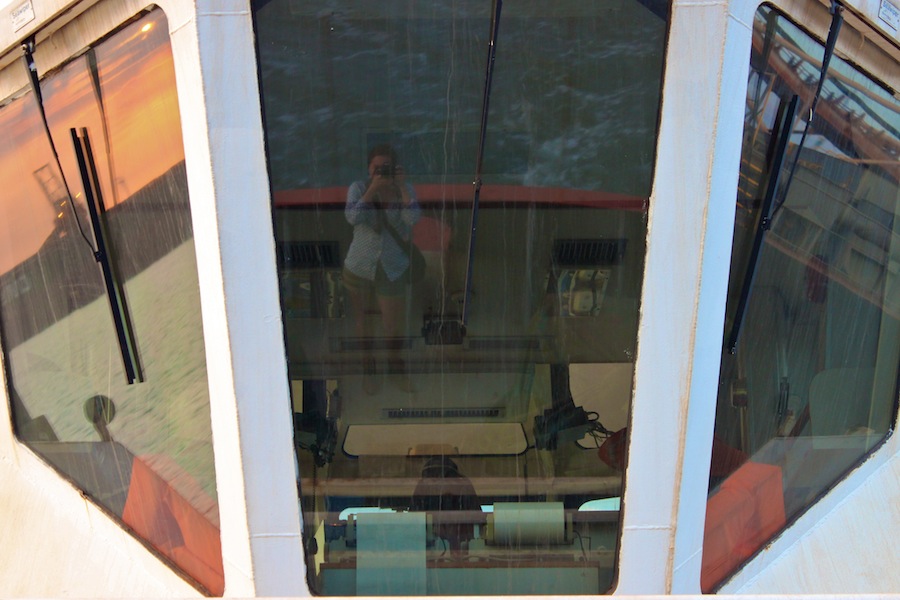 December 19th, 2012
Port Hedland to Exmouth to Coral Bay to somewhere in between to Perth to Esperance to Albany to Perth (again) to Mandurah to Margaret River to Perth (again) to Uluru to Alice Springs to Perth (again) to Paynes Find to Karijini National Park and back to good ole Port Hedland for a grand total of 9,500 kilometers.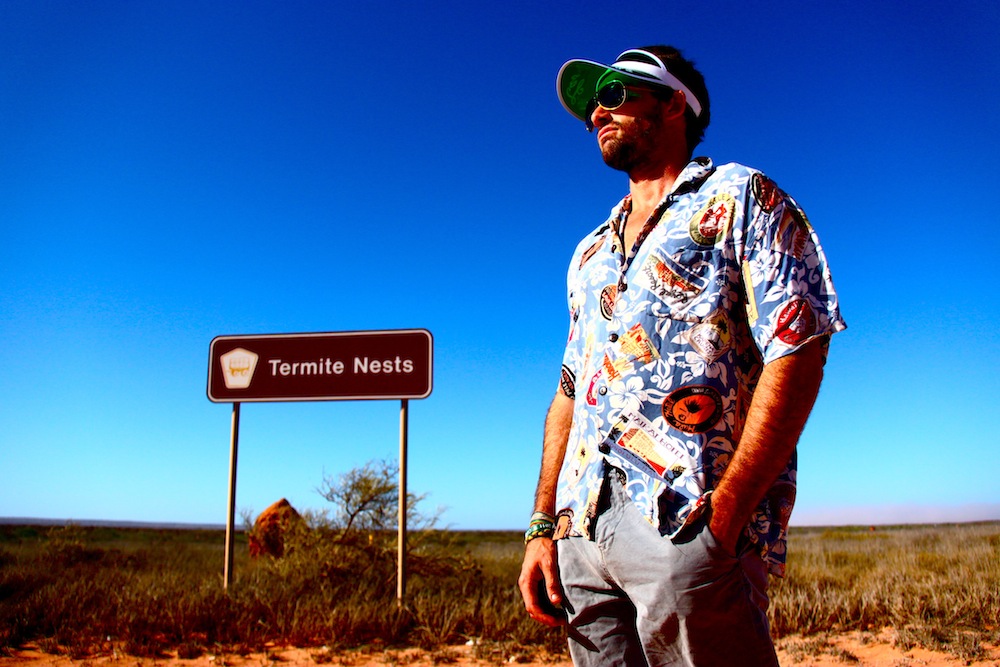 "The only way to prepare for a trip like this, I felt, was to dress up like human peacocks and get crazy, then screech off across the desert and cover the story." — Hunter S. Thompson.
Sometime between 8 a.m. and 10 a.m. we hit the road. Caution: drinking while driving is frowned upon. We have a 4WD vehicle. The 4WD vehicle is equipped with a fridge for food. Next to the fridge is a cooler to keep the beer cold. There's a Jerrycan strapped to the roof for looks, though there is a chance we may actually need the extra fuel for setting something on fire. Alex packed fishing poles. I'm bringing Raoul Duke.
A few hours down the road …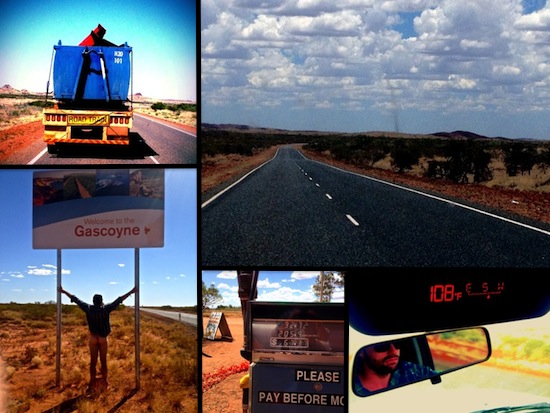 I'm screaming in the passenger seat, barely catching a breath and doing backflips because there are tornadoes springing up over yonder, and Alex is struggling to keep the car on the road. He is not impressed. Alex will tell you, in a very calm voice, that "They aren't tornadoes. They're just Willy Willies caused by the heat," but the point is that we're surrounded by tornadoes, and the tires are nearly melting. I asked Alex if we can buy some eggs to cook on the road. He said yeah.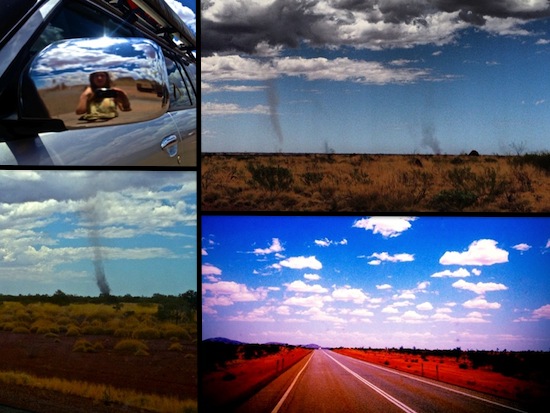 The only way to survive in these conditions is to eat freezie pops. I chose the most extreme berry flavor I could get my hands on: bright magenta. Alex chose something lame: periwinkle. We traded. They were both gross. For the next few hours, we had no choice but to survive on Coopers Pale Ale and Sublime.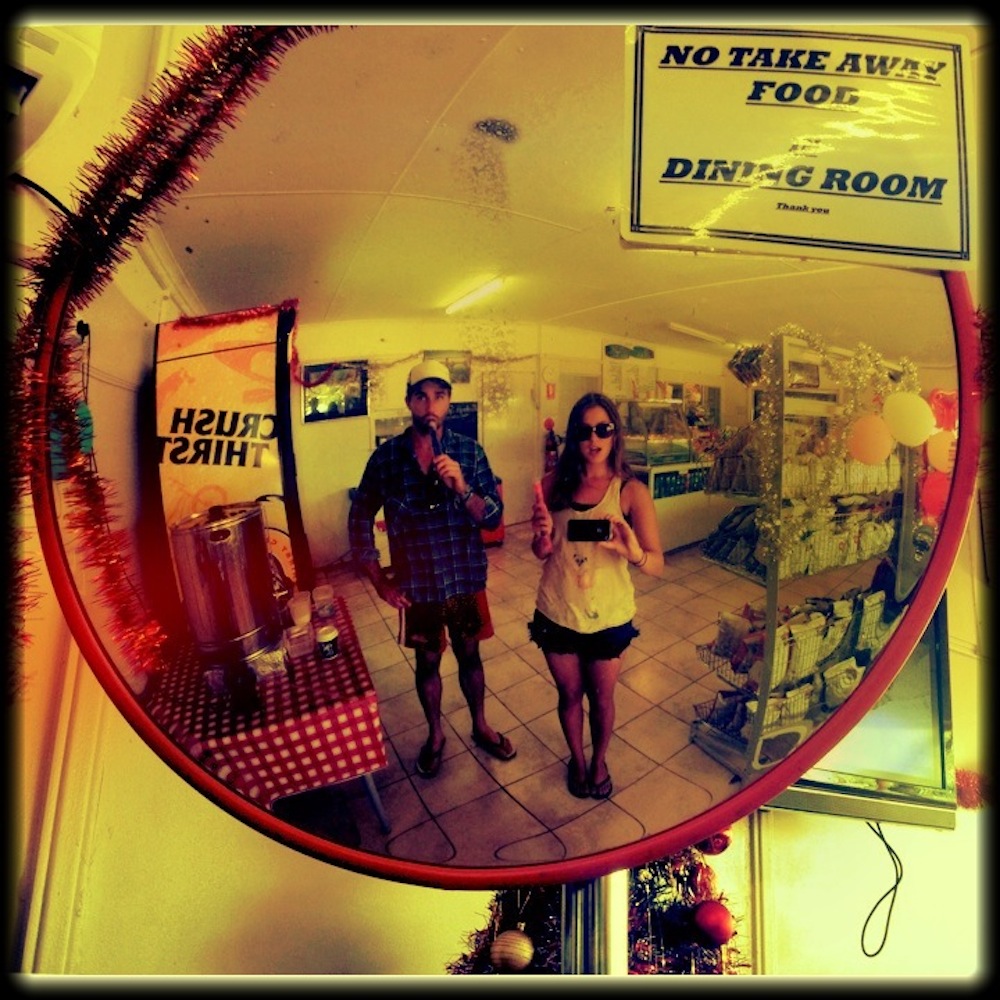 Dec. 21, 2012: Sexmouth & Oral Bay: Rated 'M' for 'Mature'
Our first official road-trip destination was Exmouth. Beaches, gorges, lizards, kangaroos, emus, sunsets, beers, etc etc. We spent our time drinking, hiking and taking border-line inappropriate semi-nude photos because, well, why not? There's just something about standing on the edge of a cliff with jagged earth and sparkling water below that makes you want you rip your shirt off and flash the world. If you're Alex, you'll pull your pants off too.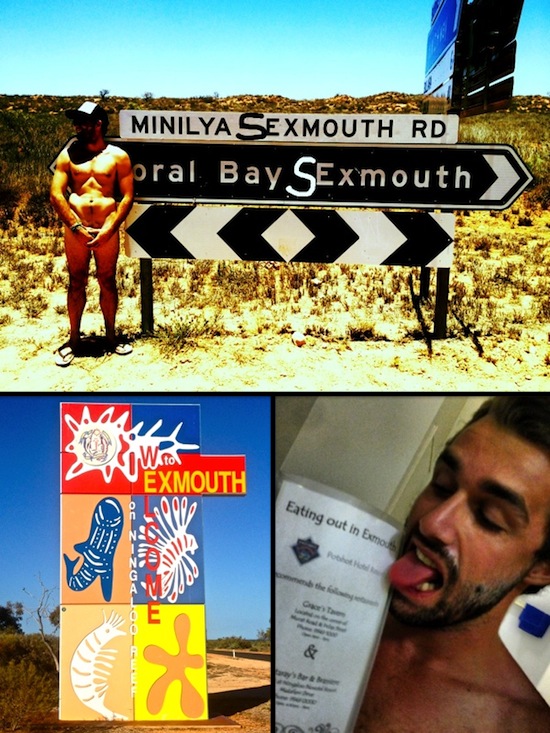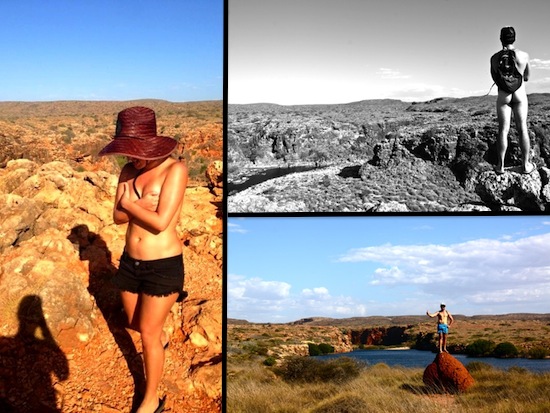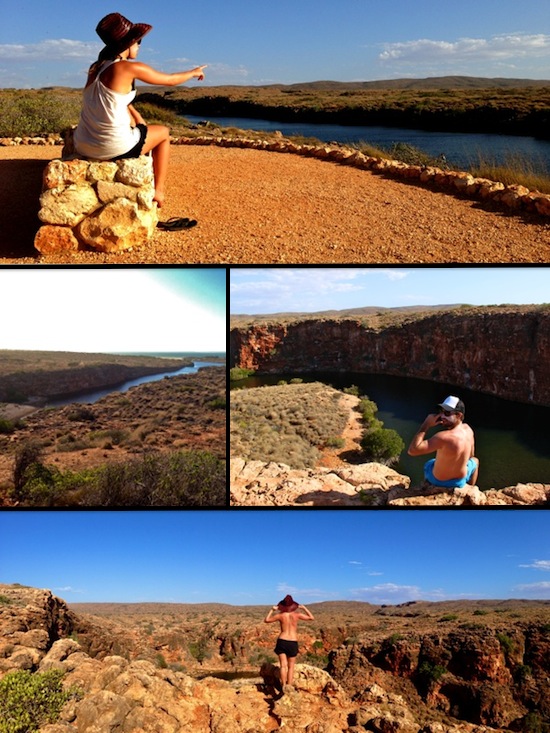 And so, our holiday on the road was underway. But no road trip is complete without some sort of accident or car trouble. If you're in Australia, a dead kangaroo is the most likely scenario. Kangaroos aren't very road savvy, and they come bouncing out of nowhere in order to dive directly under your tires. I know this because in all of the months I have spent in this country, I am certain that I have seen more dead kangaroos than live ones. Up until now, it had only been a vague reality. And then we hit one. Big Red Dead Kangaroo. I was pretty shaken up and real sad, but there isn't much you can do about a minced up roo. No joey in the pouch, dead as a door nail, nothing left to say but R.I.P. On the bright side, we did manage to avoid each and every lizard that crossed our path. I even hopped out of the car and caught a beautiful little Momma rock lizard, who most likely just popped out a few eggs. She was an angel.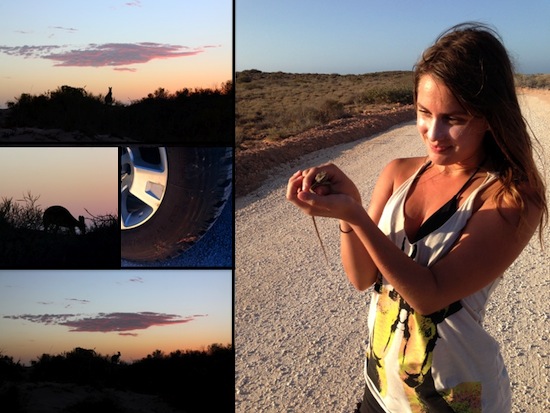 After a couple of nights in Exmouth, we ventured a few more hours south to Coral Bay where the most fun you can have is to swim all day and drink rum in the sun. And you can drink rum while the sun is setting. When the sun is finally down, you can drink rum in the dark. And then, you can drink the rum in the bathtub and wear your sunglasses at night in the Penthouse Suite.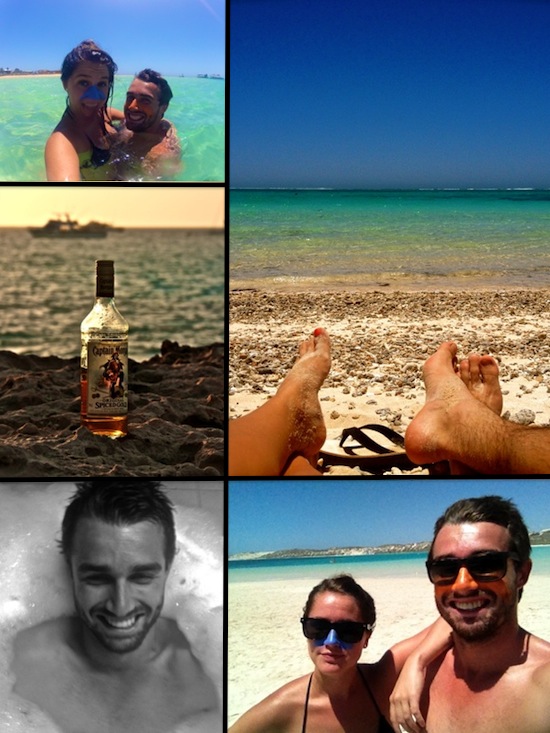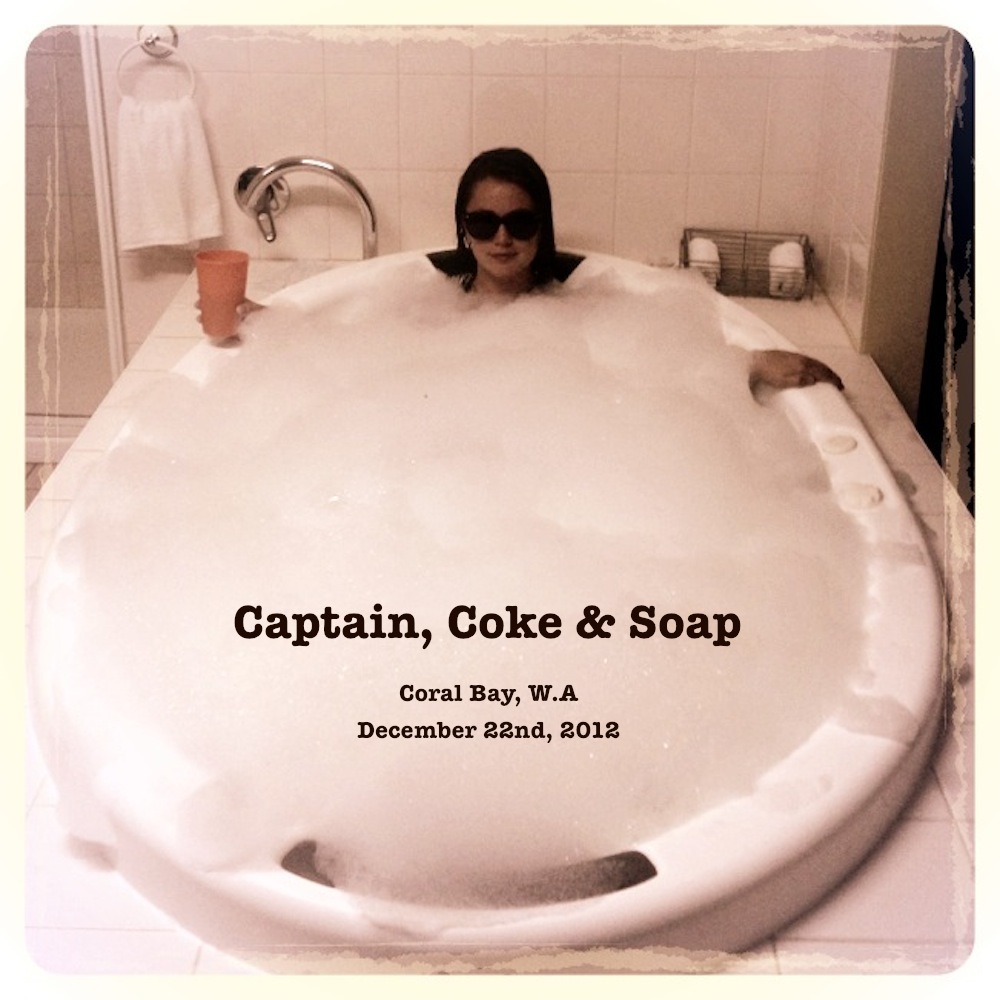 Dec. 23, 2012: Rackin' up the mileage
We left Coral Bay without a plan. We didn't have to be in Esperance until Christmas Day, which meant we didn't have to be in Perth until Christmas Eve, leaving us with a one-day gap to fill. The idea was simply to drive for awhile and then to find a campground where we could spend the night in our swags. We stupidly chose Horrocks. The name alone should have set off some alarm bells, but as I said, it was a stupid decision. Anyway, we spent several hours in the car, pulling over here and there for roadhouse snacks, cold beers and road signs before ultimately deciding that Horrocks would be our final destination for the evening.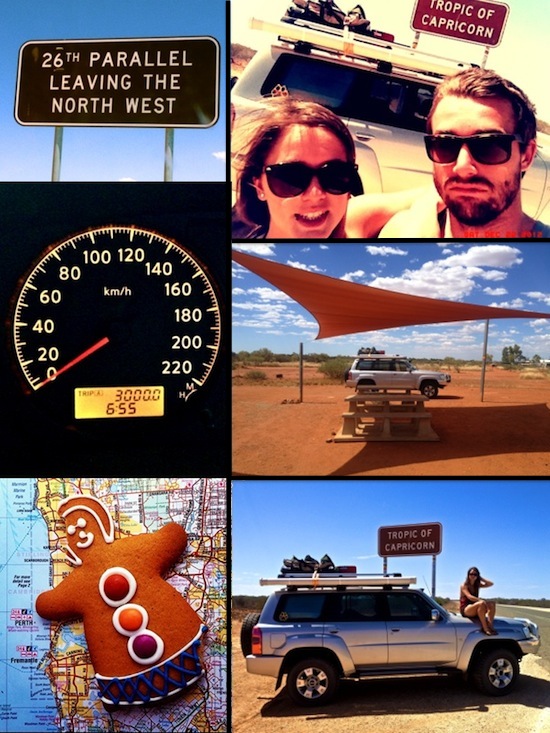 Then we came to the Horrocks Road turn-off. I don't know if that's the actual name of the road, but being that I now use the word 'Horrocks' to describe anything that I find rotten, creepy or generally uninteresting, for all intensive purposes, Horrocks Road is accurate. A few kilometers down Horrocks Road we pulled over to receive our complimentary speeding ticket.
As we continued our drive at approximately 20 kilometers per hour, we neared the Horrocks coast. The wind picked up. The sun dipped out of sight behind the clouds. The air cooled. The closer we go to the town, the more unpleasant the conditions became.
When we finally (and unfortunately) reached Horrocks itself, it was clear to us immediately that we would not be spending the night. Children with two heads and no eyes fished in the streets with reel-less rods and hooks baited with plastic doll parts. A cluster of rabid adults loitered near a row of trash bins. Birds in the trees foamed at the mouth. There were no dogs or cats. They had all been eaten alive.
Without stopping, we did a U-turn and we were back on the road to Perth. We drove for hours on end into the darkness, surviving on hot chips and an endless playlist of Christmas music. We arrived in Perth and broke into the house of Alex's brother where we slept peacefully, with the exception of a few Horrocks nightmares.
The next morning we were back on the road with 800 kilometers to go. After several hours of static on the radio and no phone reception, we noticed signs for a much-needed detour: Wave Rock! I'd seen images of Wave Rock in a Nat Geo special, and I was pretty stoked that we had the opportunity to make the pit-stop, just a few minutes astray from our route. I don't know exactly what I expected from Wave Rock, but it definitely wasn't the NatGeo wonder I remembered.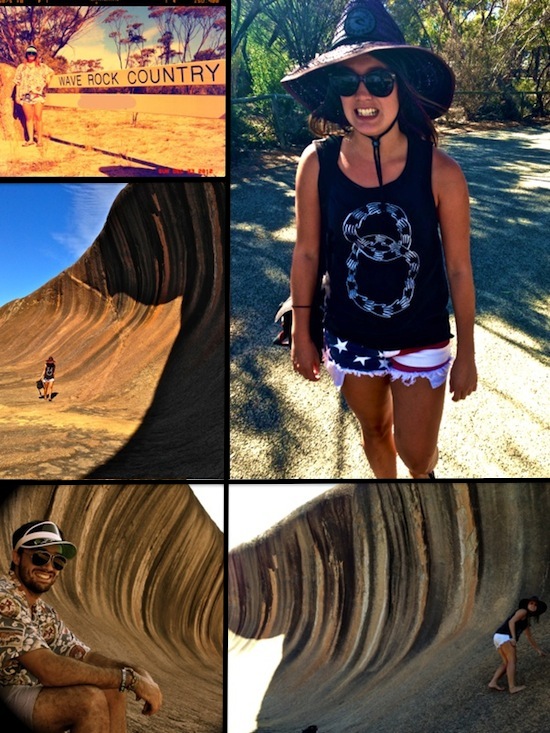 What can you really expect from a rock anyway? I guess maybe to climb it or jump off of it or interact with it in some way. You can't really do any of those things at Wave Rock. It's just sort of a semi-steep, smooth wall with streaky highlights. It's not too high. It's not very long. It's impossible to climb. Basically, Wave Rock is a nice to place to go if you want support the upkeep of the nearby parking lot by donating 7 dollars. If you can't resist the temptation to be unimpressed firsthand (which is my personal preference – genuinely) it will only cost you another five minutes of your time to explore the rock in it's entirety, or possibly 7 minutes if you're wearing a trip kit and you stop to take photos. Anyway, once we finished hanging out in the parking lot and taking a few lousy pictures, we returned to the main road, and there we stayed for the next five hours until we reached Esperance.
Dec. 25, 2012: Merry X-mas Esperance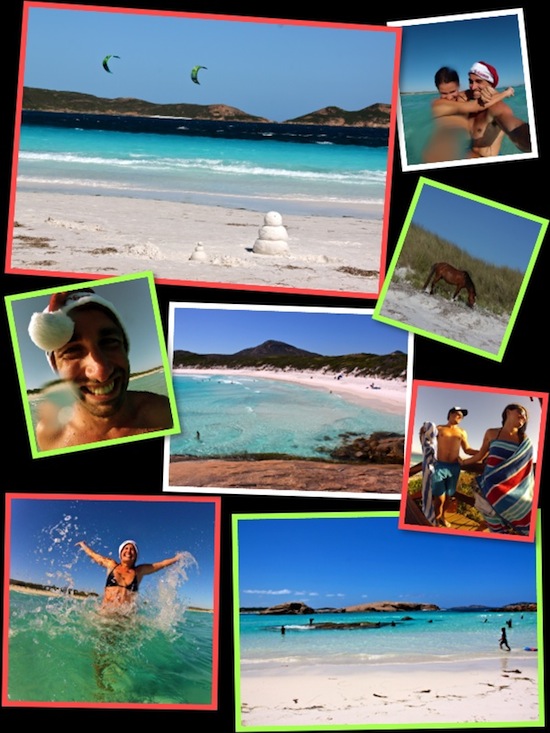 Sometimes people ask me if I miss my family. The answer, quite obviously, is always a big fat 'yes'. Despite all of the rotten little annoyances and heated arguments about nothing in particular, I miss my kin. On most occasions though, I would absolutely prefer to miss my own family than to be caught in the middle of some other family's petty arguments and awkward photos, but this Christmas, that's all I really wanted.
In fact though, Christmas in Esperance proved to be a real treat because the members of the family whose company I shared were all on their best and most charming behavior, decked out in Santa hats and reindeer ears. The kid cousins were sprinting through the house, chasing balls, playing video games, generally making a racket. The cooler older cousins were hiding out in their rooms, only to emerge at dinner time and then not to be seen again until late the next morning. A team of happily drunken sisters, the crazy aunts in the family, laughing their way around the kitchen and making inappropriate jokes. The most adorable Nanna dancing through the house, drinking whatever she can get her hands on and causing a great deal of confusion for anyone whose left their drink unattended for more than 30 seconds. Grandad at the table telling tall tales about fishing. Uncle Scrooge asleep on the couch, bored of it all. There was hibiscus in the champagne, a feast on the table and a pile of presents under the tree. It felt every bit like an Upstate New York Christmas, except for the ocean view and the sparkling beachfront.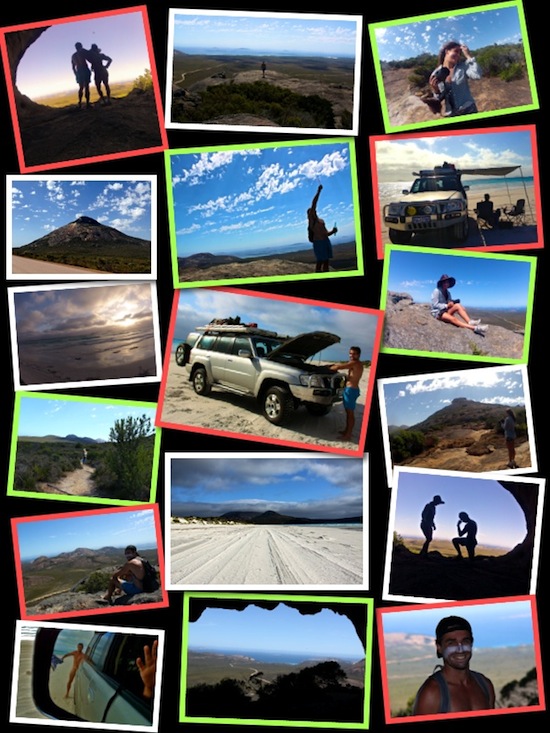 Speaking of beachfront, the beaches in Esperance are some of the most immaculate I have ever seen. We spent our days in the sunshine and the cold water, cruising along the shoreline, Coopers green & Captain on deck. We were doing so many fun things that I didn't have very much time at all to be sad about the fun things I was missing out on back home. That's not to say that thoughts of ginger bread houses, sugar cookies and rum runners didn't go through my head here and there. Still, if I couldn't be home, I was sure I was in the best possible place otherwise. On our last day in Esperance, we climbed to the tippy top of Frenchman's Peak for one last look at Elysium and then cruised the 22 kilometers of beach back to the pavement, but not without stopping to smell the sea salt.
Dec. 29, 2012: Albany: The Windmill City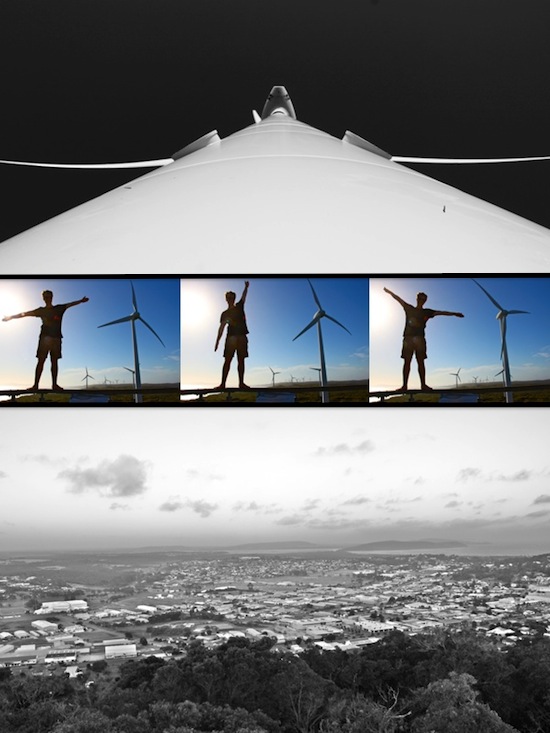 Hello Albany! & I'm not talking about the capital of New York. After a solid 4 hour drive, we arrived at Snax's home sweet home in Southern W.A. – yet another beautiful abode with a beautiful view inhabited by yet another charming Australian family. Black skinks in the backyard, abalone fishing & a delicious dinner filled our first day. We spent our last day with James Squire and Tour Guide Snax while we explored all that the little town of Albany had to offer – which is quite a lot indeed.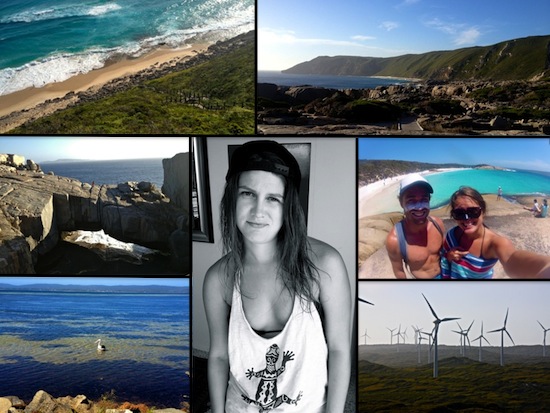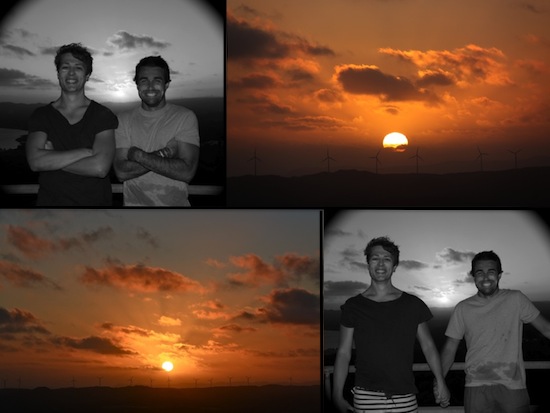 Just before we left, Alex felt it was necessary to climb Big Dog Rock. The only way to do it is to run across four lanes of traffic and then sprint up the back of the dog's head. Congratulations Alexander James Wightman, you did it!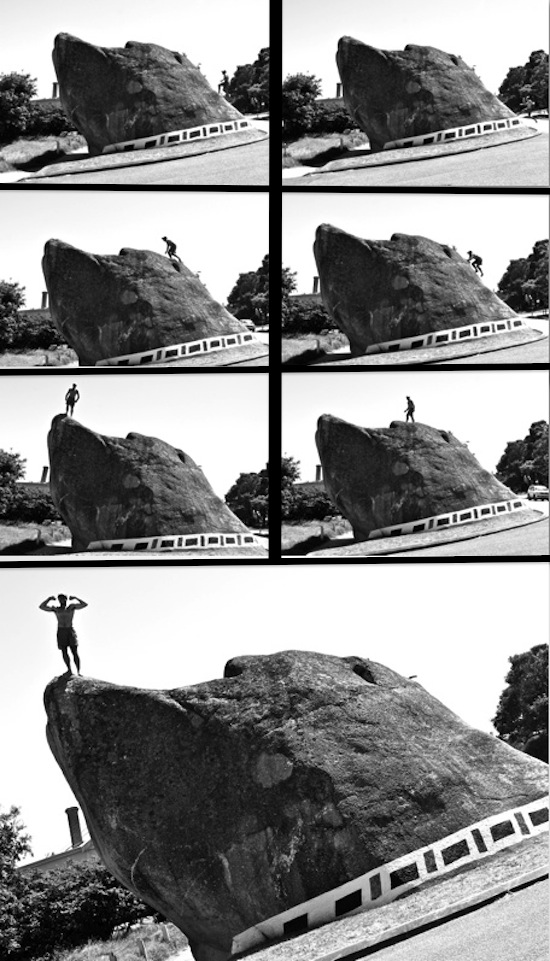 Jan. 06, 2013: Margaret River
After roughly 6,001 kilometers, Margaret River welcomed us with open arms. Gorgeous weather, beautiful shorelines, elegant sunsets. Lots of swimming, a little bit of fishing & some quality time with a charming Australian family.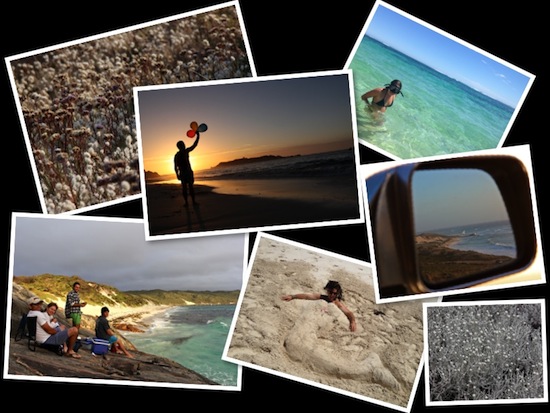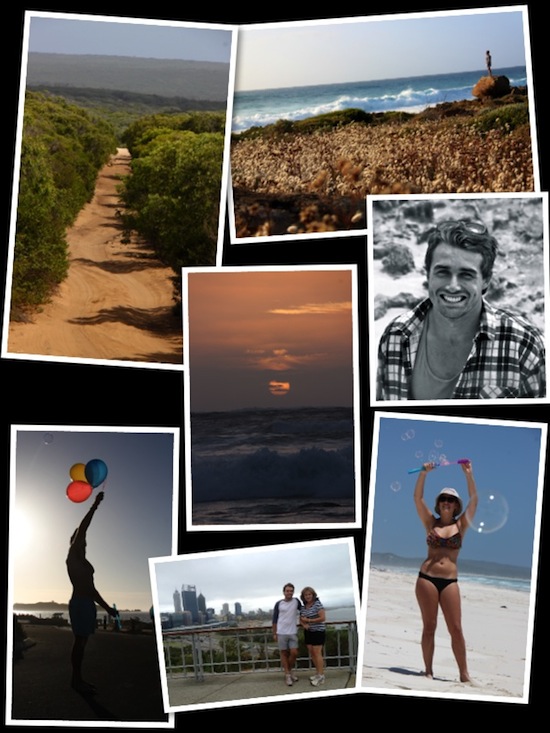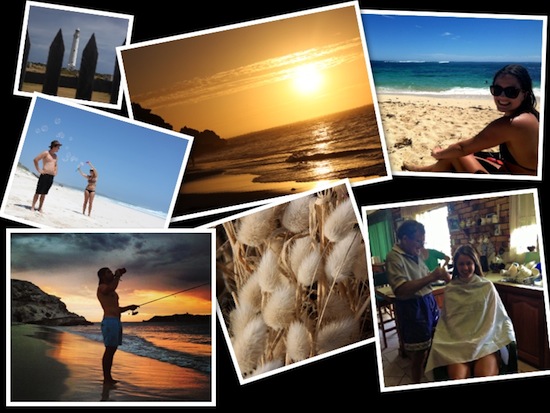 Late one night, underneath the diamond canopy that is the Margaret River night sky, I climbed up onto the roof, duct-taped a shirt button over my camera's shutter-release to keep it open, set up a Gorilla tripod aiming anywhere & drank a Coopers green while I waited (im)patiently to shoot my first start trail. Alex was a good sport and he waited with me in the dark. The process was long enough to watch an Orb spider devour a Cicada. After three experimental exposures, I figured out the right combo of aiming, focusing & choosing the right ISO, WB & shutter length in complete darkness. It took a lengthy discussion to work out that I should aim at the poles for the best effect, but in the end, we sorted it out with plenty of time to spare. The local paper thought the shot was pretty cool too.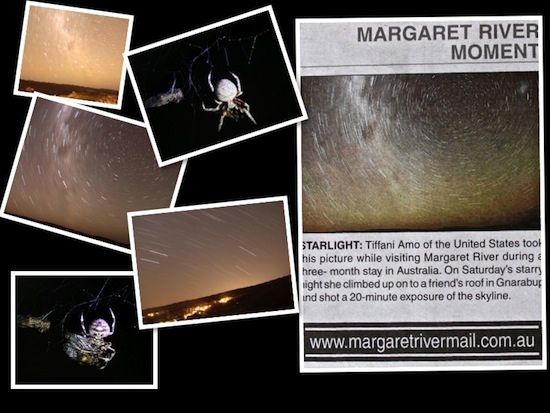 Speaking of pretty cool shots, Alex's grandad took some super rad family pics back in the day. I'm not talking about the usual awkward family photos littering the walls (though there were plenty of those and they were quite hilarious). I'm talking about some classic images, the kind of nostalgic old photos that leave you longing for simpler times.
As it so happens, Alex's mum asked me to put together a mock-up for the cover of some Margaret River book, and in her e-mail she included some photos for me to use – JACKPOT! They were digital versions of all those photos I have admired hanging on the walls, resting in photo albums, sitting on shelves. The shots she sent are from a combination of slides and film that her father shot and developed years ago. He was one of the few people in Margaret River to own a camera around that time, which makes these photos that much more interesting. Would be an epic selection for the Dear Photograph project.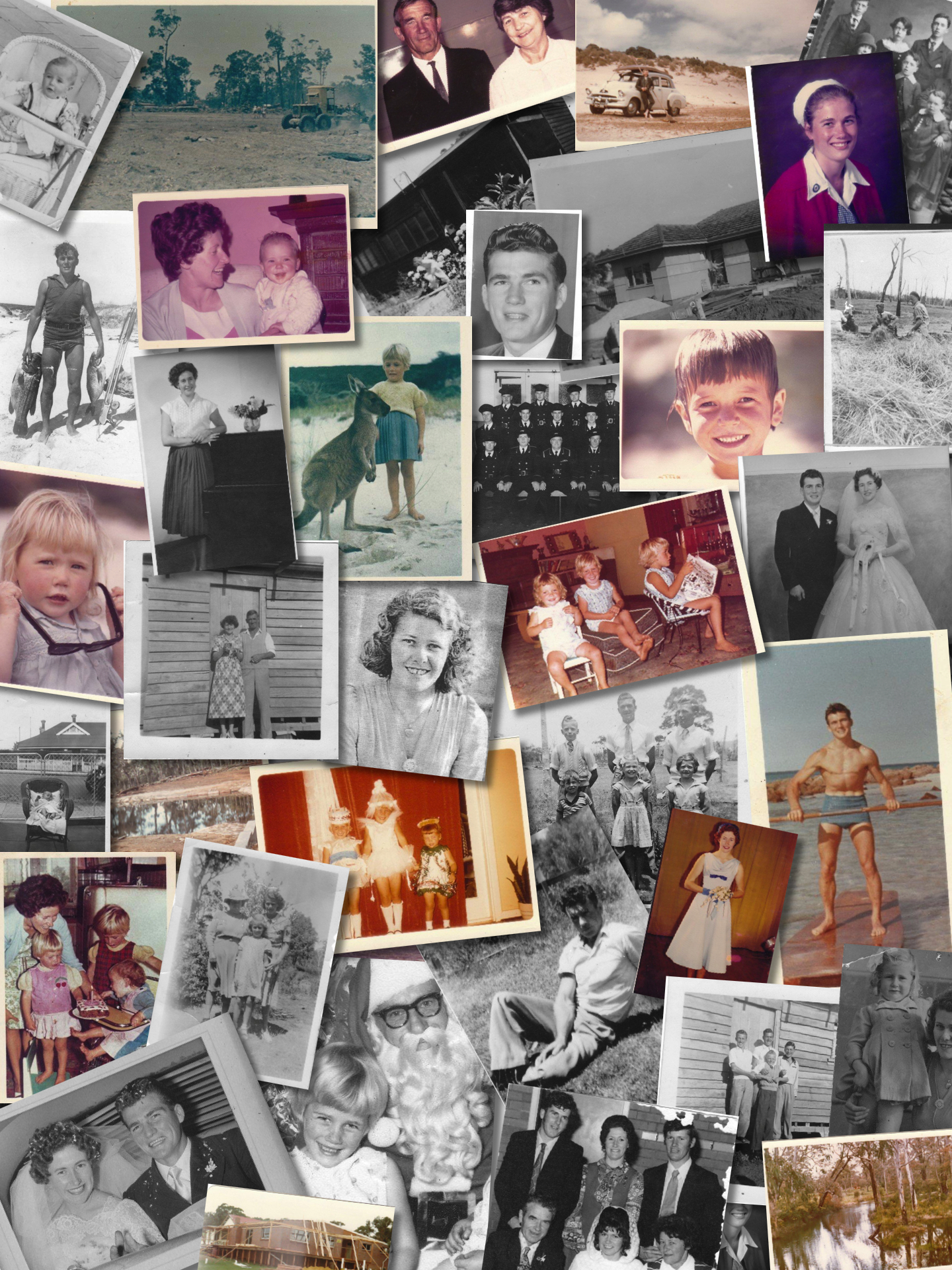 Jan. 14, 2013: Ayers Rock, Uluru, Whatever it's Called
Three days and three nights in Uluru staring at the biggest monolith in the world. We walked all 9 kilometers around its perimeter. We climbed to its tippy-top. We ventured into its caves and cracks. We admired it from a distance. Sunrise, sunset, high-noon. Clear skies & rain clouds. The Life and Times of A Very Big Rock located smack dab in the middle of nowhere.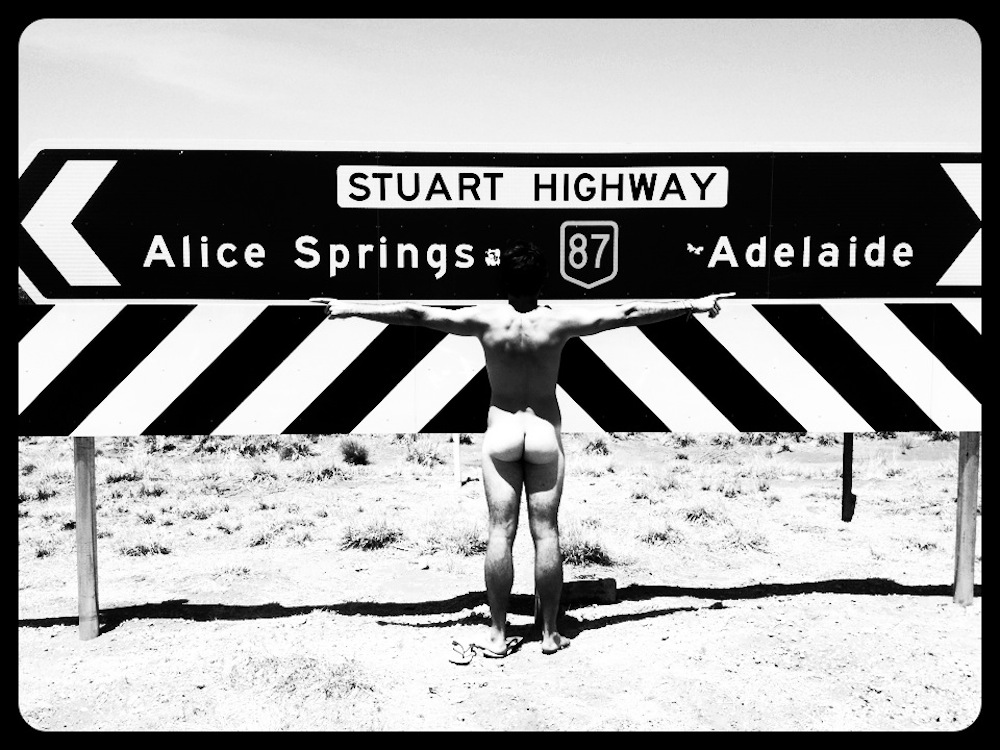 The thing about Uluru or Ayers Rock or whatever you call it, is that you aren't really supposed to climb it. Technically you're allowed to, but it's sort of frowned upon. Basically this giant rock, which is the biggest monolith in the world, has a very spiritual significance to the aboriginal people, most of which has to do with the rock's appearance. The aboriginal people claim that the formations in the rock's surface read like the holy bible – every crevice is like a sacred testament, every nook is a spiritual place of worship. The problem is that back in the day, every Tom, Dick and Harry would climb the thing and eventually the face of the rock began to change as people's footprints wore away the sandstone. Not to mention the fact that this path that we're all casually climbing, complete with painted lines and a portion of chain-link rails, used to be a journey reserved for only the most sacred and spiritual ceremonies. And so, the Uluru National Park has started to back pedal in their tourism efforts in order to deter people from climbing. Essentially they just restrict access to a few hours per day, only open the climb under perfect weather conditions and don't give out any information or details about the nature of climb (length, level of difficulty, time estimate etc). So despite the half-hearted efforts to preserve the rock, you are indeed allowed to climb it.
In this case you probably think it's inconsiderate to go ahead and do it, but unless you intend to live your life succumbing to the rules and wishes of every single religious and spiritual group that crosses your path, there's no reason to play favorites. In a few years I'm sure it will end up being prohibited altogether, and then no one will have to toy with this moral dilemma, which is just one more reason why I chose to climb Uluru.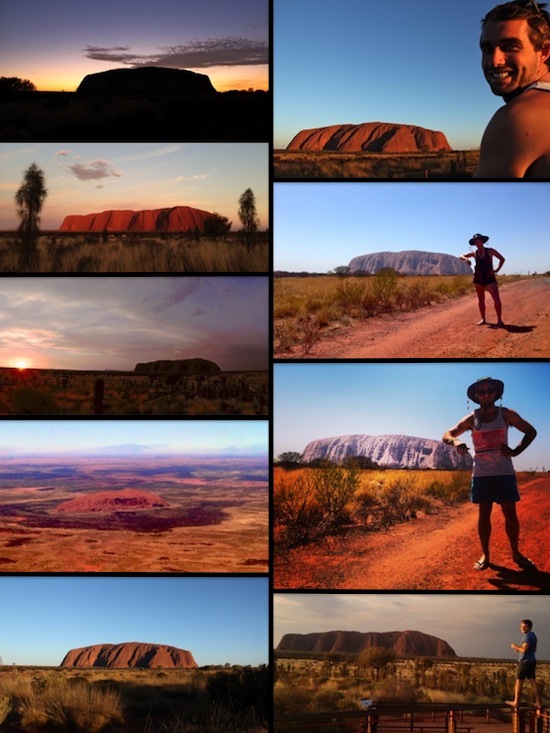 Naturally, Alex and I were the first ones to reach the top. A few naive souls started off ahead of us, but the steep climb revealed their weakness and shed light on the true champions. It was a hard climb in the beginning because of the steep face, but once we got to the top it was play time. Running up and down the crevices like Sonic the Hedgehog, jumping from ridge to ridge, spider-walking down the steep slopes, tip-toeing along the ledges. We even had reception. I called my Dad, of course!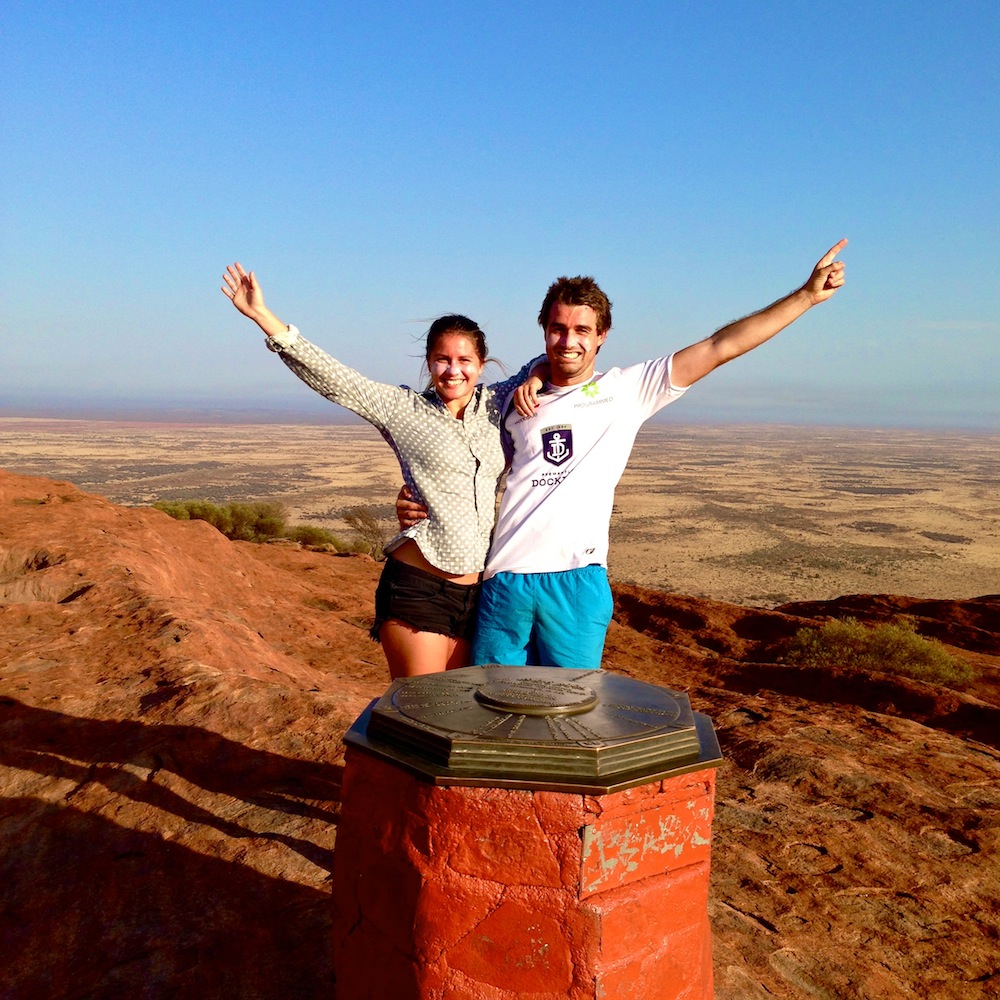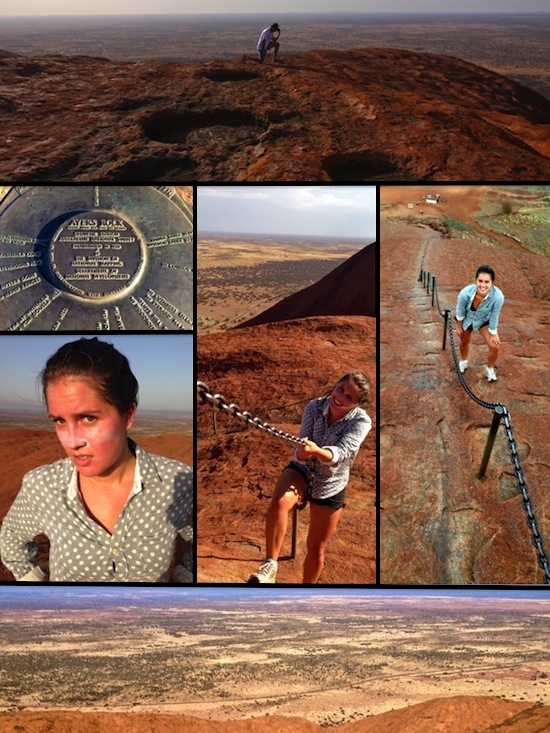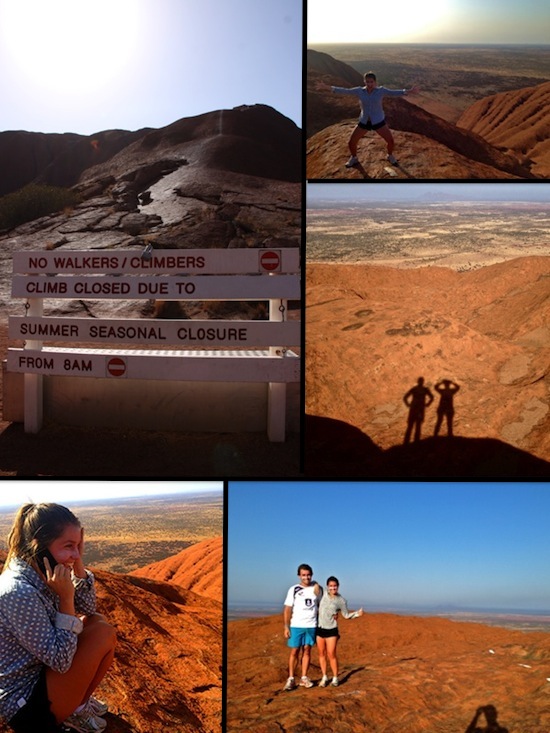 Climbing Uluru isn't the only thing to do when you're in the middle of the Australian nowhere. Who cares about a rock when there are thorny devils and monitors running around. Unfortunately, not everyone appreciates these adorable little cold-blooded critters, and they have a tendency of becoming road kill. Sometimes they're just a pile of guts in the middle of the road, but sometimes they're freshly deceased and you wouldn't even know they were dead unless you stopped and tried to catch them, which of course is what I did. Found a beautiful monitor sunbaking on the road. Would have been great to catch him and cuddle him, except he was fried to a crisp, 100% dead. I cuddled him anyway. But really, I at least moved his pretty little corpse into the shade, where he has probably been ripped apart by a dirty murder of crows. R.I.P. On the other hand, there were still lots of lively reptiles running around, and I made it my business to find them.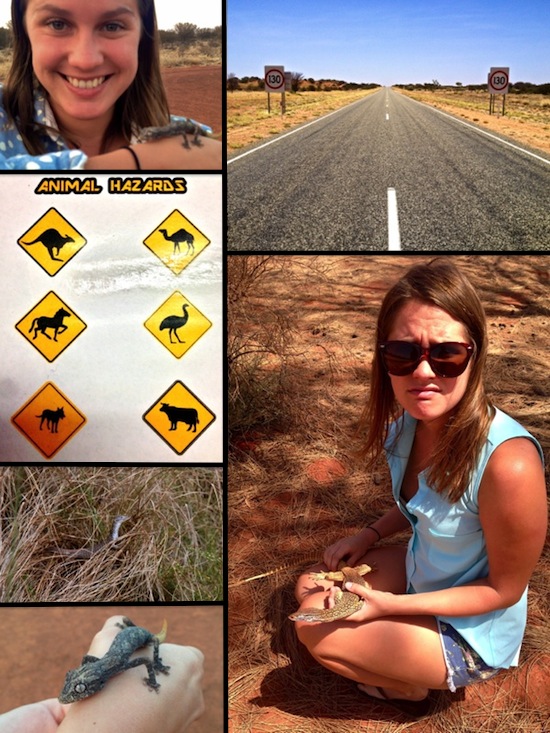 So for four days Alex and I cruised around Uluru. Sunrises, sunsets, day hikes, night walks and a few hours spent driving around, checking shit out and looking for reptiles.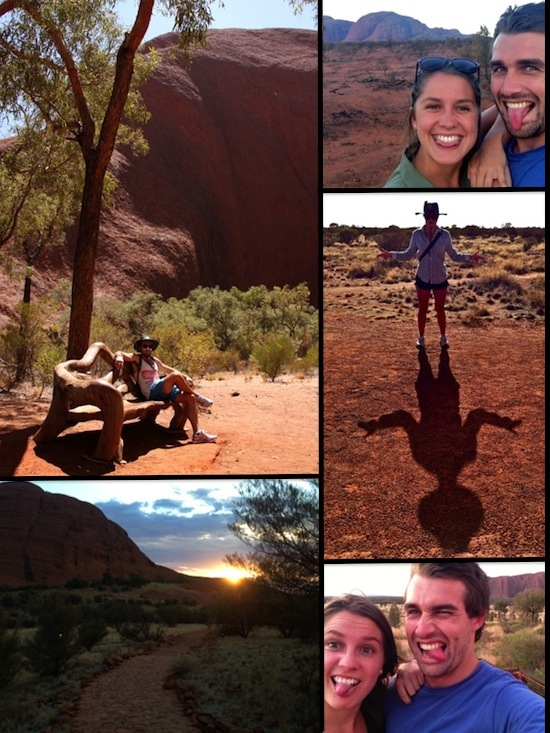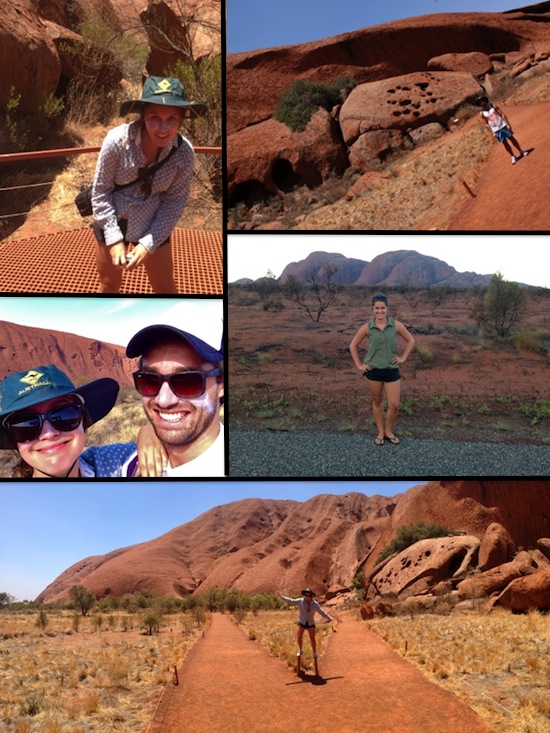 Best sunset award goes to: The Olgas! Tired of looking at one big rock every day, we headed to the Olgas, found a pile of rocks to sit on, and watched the sunset across the desert.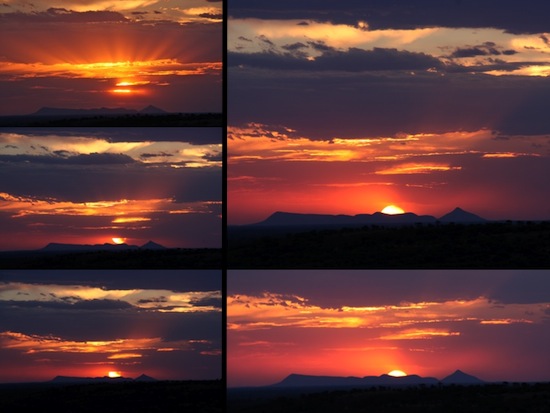 Jan. 15, 2013: The Heart of Australia: Alice Springs
Two days, two nights.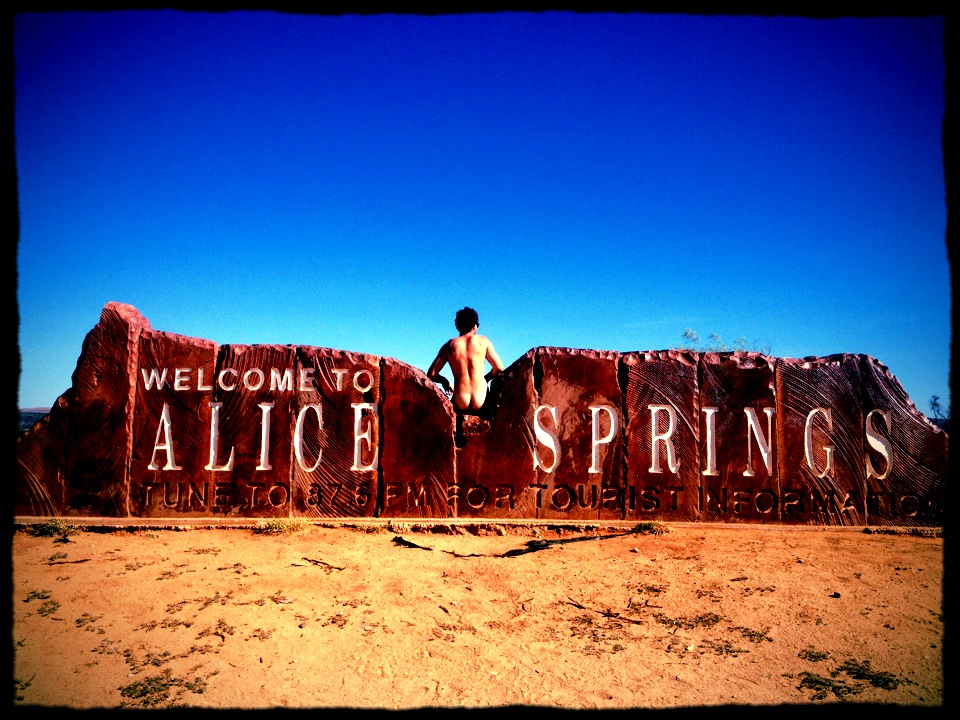 Finally fulfilled another one of my big reptile dreams: Live Thorny Devil! Unfortunately I didn't see one in the wild despite our best efforts, but Alex did find a Reptile Centre. The lady said I wasn't allowed to touch the Devils even though I asked in my nicest, most calm voice. So I just waited for her to leave me alone, and as soon as she turned her back I scooped one up and he smiled at me the way only a Thorny Devil can smile. Such a cool little dude. The next day we spent a few hours clowning around in Macdonnell's National Park. Swimming in the watering holes, eating peanut butter and jelly sandwiches and watching Central Australia burn to the ground. Good thing there's water in the gorges!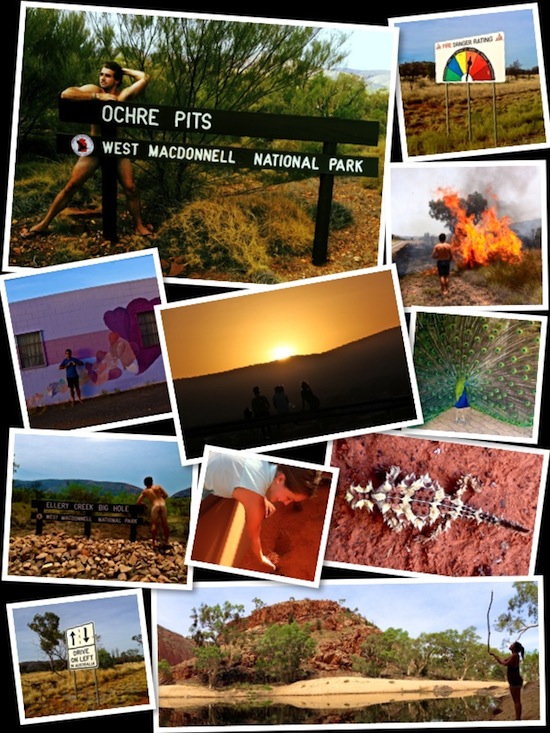 Jan. 22, 2013: One Last Trip to Karijini
On the way back to Port Hedland, the Great Northern Highway passes directly by the Karijini turn-off. After my first trip to Karijini I quickly decided that it was one of the coolest places I've ever been. And so, Alex said it would be okay if we made the short detour to spend just one more night in Karijini.
Really I just wanted to go to Kermit's Pool in Hancock Gorge. All you have to do get there is climb down the gorge cliff-side, spider-walk through the cracks in the gorge walls and wade through a rocky pool. Once you get to Kermit's, you're free to scale the walls and cannon-ball til your heart's content. Tiny frogs peeking out from tiny holes in the rocks, dead spiders and unidentifiable insects floating in circles, dragon-flies skimming the water's surface, sun-light pouring through the cracks above. Sometimes you'll be lucky enough to catch a glimpse of a legless lizard, and other times you'll accidentally wrap yourself up in a spider's web. I nearly caught a rock lizard, but he made a narrow escape.
We also went back to Joffre Gorge. Last time we climbed down to find a bowl of stagnant H2O and a bone-dry waterfall. After the massive storm from the night before (which we drove through) there was plenty of water flowing down the falls & we went for a swim. Of course, we also made one last trip to Dale's Gorge. Fortescue Falls and Fern Pool are always sopping wet & heaps of fun.
I managed to catch both of the lizards I was chasing around last time: The Ring-Tailed dragon and the Long-Nosed dragon. Unfortunately, my victorious photos of the Long-Nose were lost in Weano Gorge when Alex took his phone for an involuntary swim.
In good form we spent the night in an Eco Tent again, which is THE best accommodation you could ever hope for in a national park. Essentially it's just a very luxurious tent with a massive bed and a semi-outdoor bathroom (clean and simple). I took a hot shower and watched a lightning storm in the dark sky above me, with rain crashing down around me and a handful of little tree frogs glued to the shower wall, watching my every move. After that, I had a hot chicken dinner and melted into the king-size bed. Now that's camping.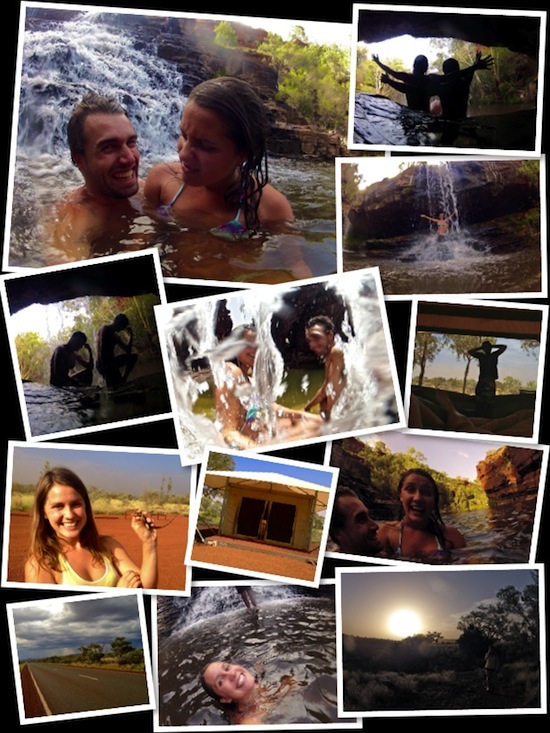 It was a bittersweet trip back to Karijini knowing that every splash I made and every lizard I caught would be the last for a long time. Karijini, I will miss you dearly.
Jan 24, 2013 A Day with Grace
I spent a day with Miss Grace Scroggie, and what a B.E.A.ufitul day it was! This young lady knows how to strut her stuff in front of the camera. First we did an "Australia's Next Top Model" shoot where Grace showed off some her prettiest outfits. Then we went to an on-location shoot at the beach where Grace let her natural beauty shine. Finally, after all of her hard work striking poses, we threw on our bathers & sunblock to go for a swim, chase some lizards and bake a caramel cake complete with green frosting and an icing gecko. Thanks for an awesome day Grace!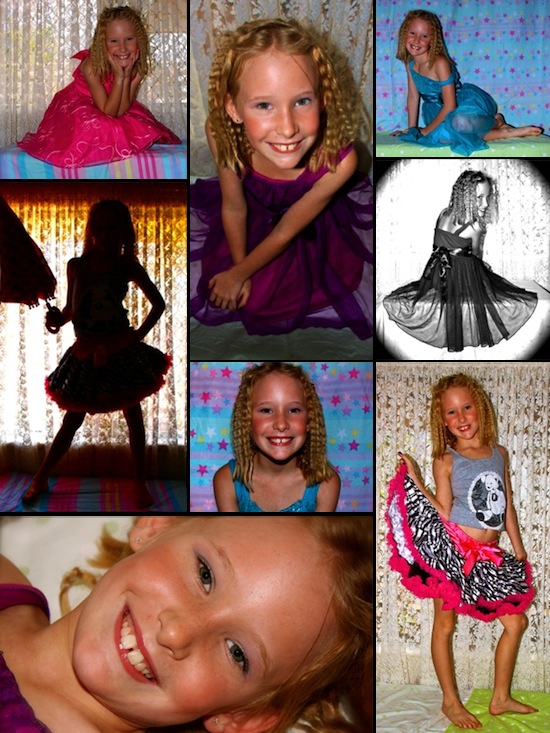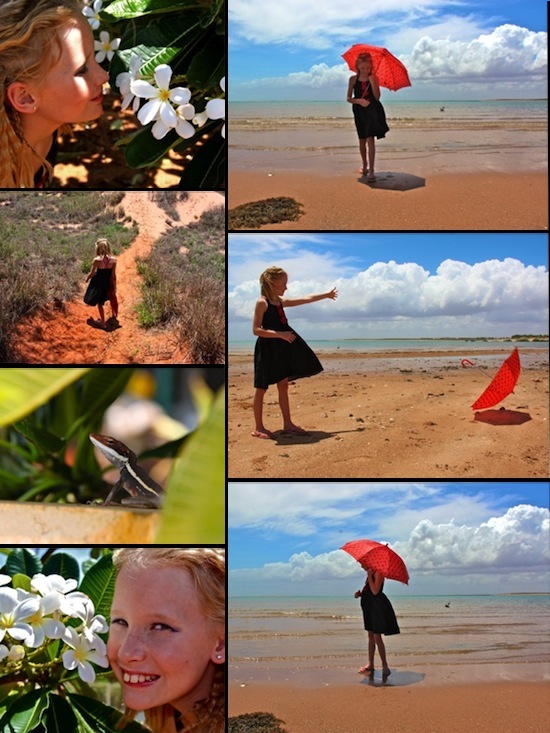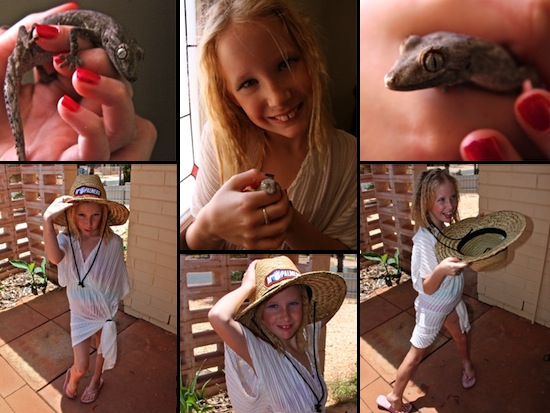 Jan 26, 2013 Happy Straya Day Mate
Apparently Australia Day is becoming just another bogan excuse to promote racism rather than to unite a country and a lot of people are starting to feel like maybe Jan 26 shouldn't be celebrated. This of course is due to the face that this is the day white people invaded aboriginal territory and claimed the native land for themselves. Unfortunately, I celebrated anyway because it's the closest I could get to having an Independence day. I spent the weekend camping at 80-mile beach doing an interesting range of activities. The holiday was not without it's bogan moments, but no worries mate, it's Straya Day! Booze, bacon, fishin' poles, four-wheelers & 100 degrees of heat. Oh and I also got to watch a bogan-mobile get washed away in the tide. Yep, that's right. Some proud Aussie drove his company truck out to the low-tide mark and then got it stuck. A combination of stubbornness, stupidity and alcohol provided an evenings worth of entertainment as a team of bogans made a half-assed effort to dig the truck out of the sand. Of course in the end, the truck stayed right where it was, stuck in the sand to be fully and completely devoured by the sea. Rumor has it that the truck was towed out at about 5 a.m. for something like 5,000 dollars. Happy Invasion Day everyone!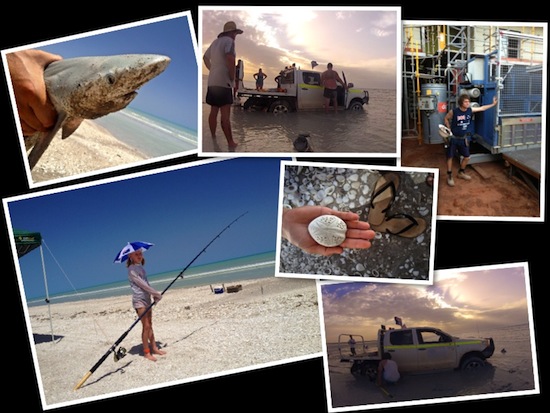 Feb 01, 2013 Slip into Broome Time
I'd have to say that spending my last weekend in Broome wasn't a bad way to say goodbye to Australia. I was spoiled rotten in a way that would made me want to miss my flight (though I learned that lesson in Indonesia – missing flights is never a good idea). Anyway, it was a weekend to remember.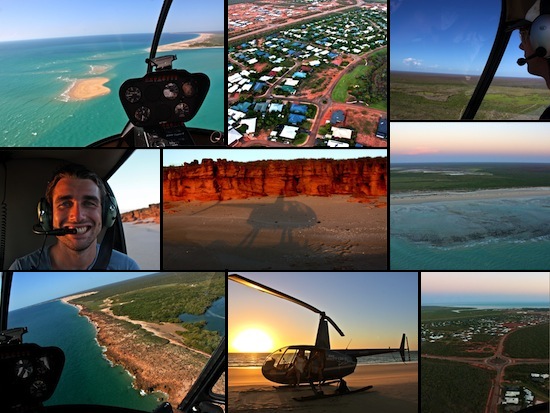 I was greeted with valet service – complete with a limo-golf cart to escort me directly to the celebrity suite where a bottle of complimentary champagne and canapes were waiting. I spent my nights in a king-size with a pile of duck-down pillows, which was a good place to watch the Superbowl, though I can't say watching Baltimore beat San Fran was ideal.
Anyway, the best part about Broome was the helicopter chauffeur to a private beach. Yep, that's right. I had no idea I would be high-flying until we pulled into the airport and I saw the helicopter pad. Epic surprise. (Thanks Kraft)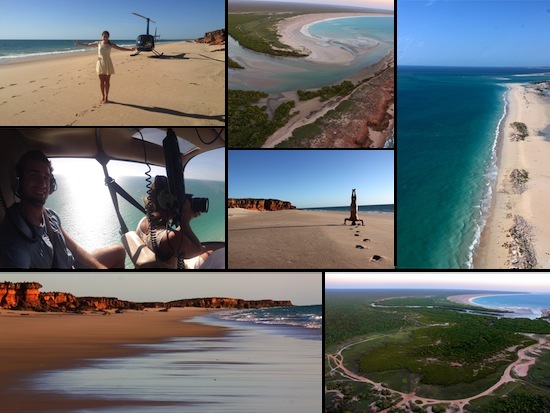 I've always wanted to ride around in a chopper, and I always thought it would be quite terrifying. In fact, it's not really terrifying at all. It's just fun. Flyin' around, checkin' stuff out. Bulky head gear & a nice breeze. Our pilot, Andrew, dropped us off right on the beach in the sand, where we stayed for the next couple of hours drinking beer and skinny dipping because why not? No one else around. No roads leading the way. No one walking down the shoreline. No boats on the horizon. Clear sky. Why not swim naked? And so we did. We swam and drank beer until Andrew came back and scooped us up (plus one very sparkly souvenir) in the chopper just in time for a sky-high sunset.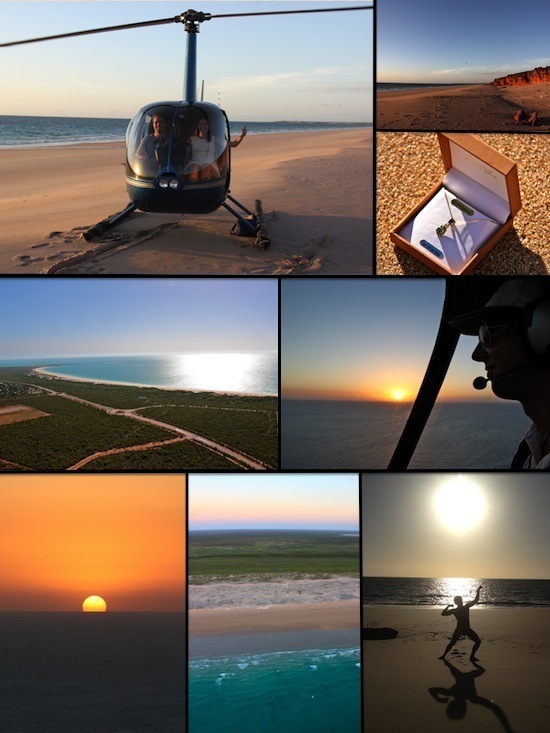 When I wasn't cruising around in a helicopter, I was drinking Matso's Pale Ale and four-wheel driving on Cable Beach. Of course, I saw the camel-trek sunset. No, I did not participate in the camel trek. I simply drank beer and drove along side them snapping pictures. Shout out to the Broome Family! I think they'll be thanking me later – a couple hundred bucks worth of merchandise from the most obnoxious tourist shops around – keychains, pins, hats, t-shirts you name it. Of course, I also snapped a few photos around town.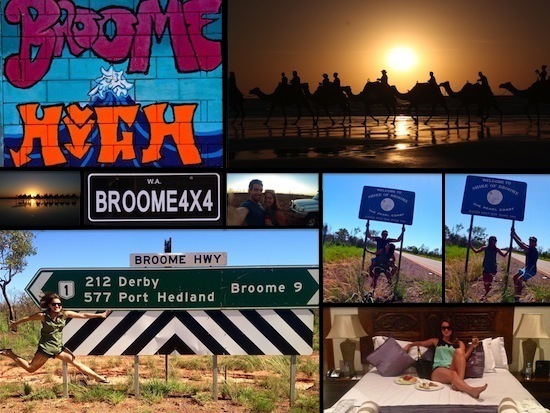 It was another epic win in W.A. Another reason to miss Australia, but one more reason to smile.
Feb 04, 2013 Industrial Wonderland
(A shortened version of this blog post was published in the North West Telegraph)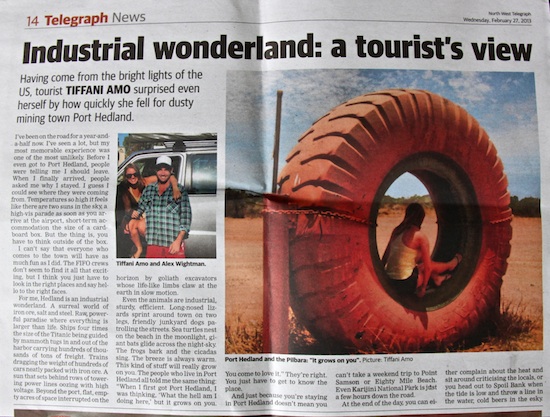 Port Hedland probably seems like an unusual travel destination. Thank you Captain Obvious. Before I even got to Port Hedland, people were telling me to leave. When I finally arrived, people asked me why I stayed. I guess I could see where they were coming from. Even if you can cope with temperatures so high that it feels like there are two suns in the sky, it's pretty hard to ignore the high-vis parade. There's virtually no short-term accommodation for less than 1 million dollars per week, and even if your bank account can bare the burden, you will still have to overcome the mental anguish of residing in a cardboard box. But that's just it – you have to think outside of the box.
I can't say that everyone who comes to Port Hedland will have as much fun as I did. I'm sure the FIFO crews don't find it all that exciting, and I really don't know exactly what the french backpackers working in the grocery stores get out of it, but this much is true: If you look in the right places and you say hello to the right faces, you'll find the fun
Welcome to Industrial Wonderland! A world of iron ore, salt and steel. Rusty, crusty earth, hot, muddy water, heavy air, hazy skies. Road trains, freight trains, oil rigs, excavators, scrap metal yards. Raw, powerful paradiso.
Seriously though, it's like being in a Transformers movie without the sci-fi plot. Everything is larger than life. Ships four times the size of the Titanic being guided by oversized tugs, in and out of the harbor carrying hundreds of thousands of tons of freight. Trains dragging the weight of hundreds of open cars neatly packed with iron ore. Rows of barrels the size of houses brim with flammable liquids and behind them are rows of towering power lines oozing with high voltage. A stark-white mountain of salt rests its tonnage on the deep red earth and peaks toward the hazy blue sky. Beyond the Port, flat, empty acres of space interrupted on the horizon by goliath excavators clawing at the earth in slow motion. Machines that look alive at night, their limbs moving and glowing with eerie white and orange specs of light.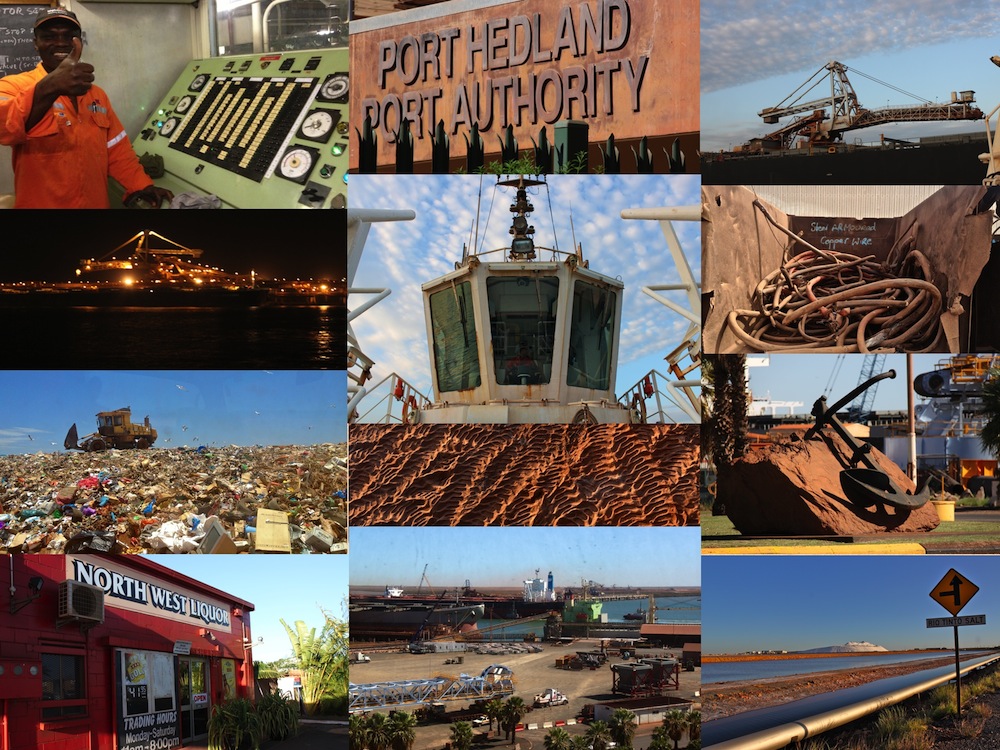 And of course, there are other living things in Port Hedland, all very industrial, sturdy little creatures. Long-nosed lizards sprinting around town on two legs, junkyard dogs patrolling the streets and the deep drone of 1,000 cicadas drowning out the sound of your own footsteps. Sea turtles nesting on the beach, giant bats colliding with your windshield and frogs barking outside of your window at night.
This kind of stuff will really grow on you. The people who live in Port Hedland all say the same thing. "When I first got Port Hedland, I was thinking, 'What the hell am I doing here,' but it grows on you. You learn to love it." They're right. Even the French backpackers would agree, and they've got the short end of the stick. The real fun is having a look behind the scenes and getting down and dirty with the nuts and bolts of Port H.
If you know somebody who knows somebody, you can spend an evening or an afternoon on one of the TK tug boats, escorting ships in and out of the harbor. Ride high with the captain, take a grand tour of the engine room, eat some beef stew in the galley. Then you can climb up into the Port Authority tower for a different perspective.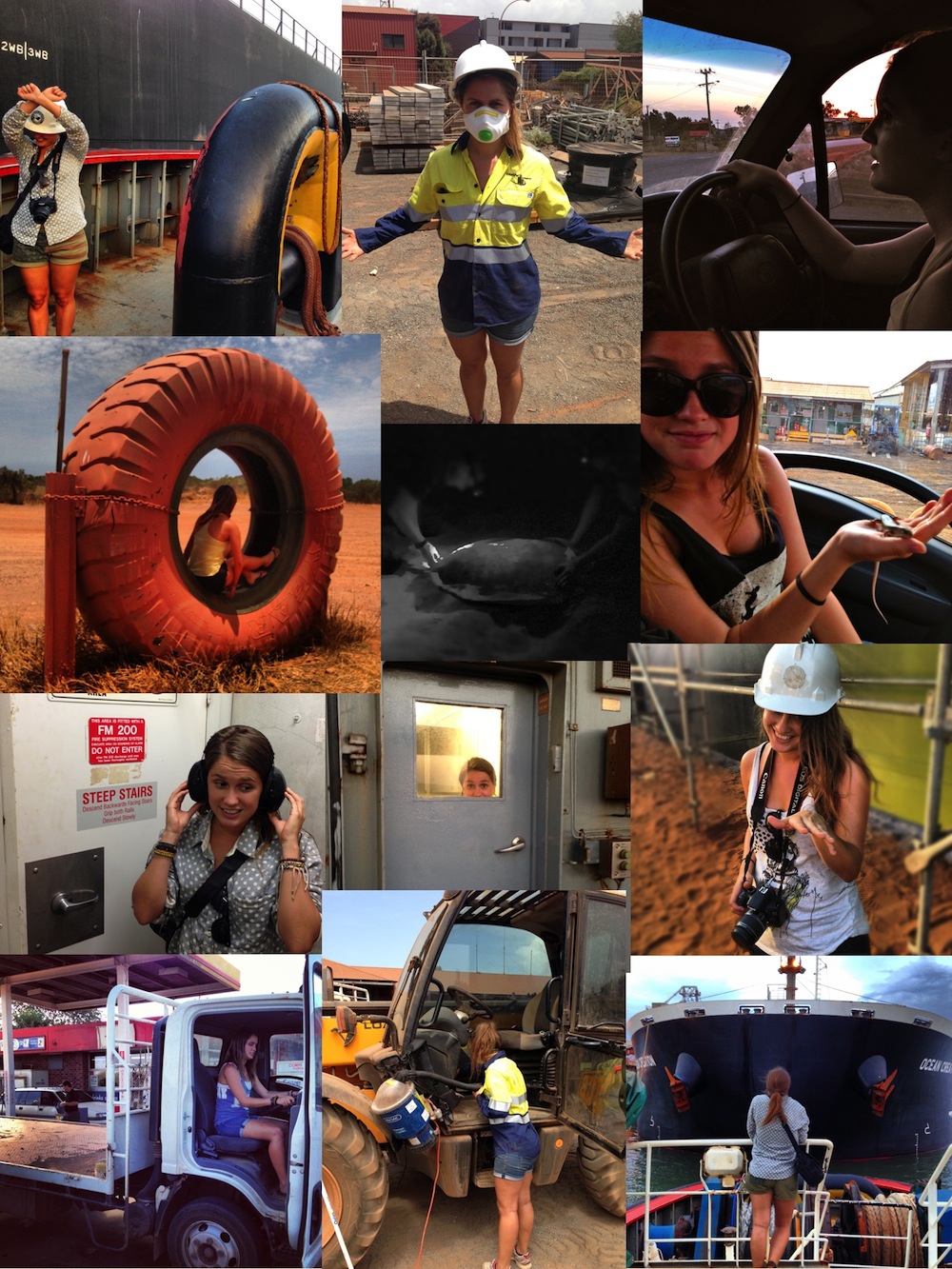 If you're like me and you really get carried away with things, you can buy your own high-vis work shirt from the thrift shop and learn to drive stick shift in an old pick-up. You can pressure wash a tele-handler, maybe drive the big rig. Check out the scrap metal yard, swing by the dump, stop into Repco to buy some piping. Catch the Long-Nose lizards and watch the sun set behind the power-lines. Do some four-wheel driving when the tide is low and throw a line in the water, cold beers in the eski. Maybe even have a drink down at The Pier or eat breakfast at The Train cafe.
And just because you're staying in Port Hedland doesn't mean you can't take a quick road trip to Point Samson or Eighty Mile Beach. Even Karijini National Park is just a few hours down the road.
At the end of the day, all you can do is try something new and make the most of it.
"To my mind, the greatest reward and luxury of travel is to be able to experience everyday things as if for the first time, to be in a position in which almost nothing is so familiar it is taken for granted." – Bill Bryson